Get to know an Alberta artist! There are more than 1,700 Alberta artists included in the AFA collection, and many of them are new or emerging contemporary artists. We're taking an opportunity to highlight some artists from the collection whose artwork is currently on exhibition or on tour.  
By: Kimberly Van Nieuvenhuyse, Writer/Social Media Officer
Meet Alberta artist Allison Tunis
Allison has a life-long love for art going back to when she was a young child. She started embroidery and cross-stitching in her early teens as a hobby. When she was in her last year of her Fine Arts degree, she starting to combine the conceptual work she was doing with the cross-stitch embroidery she had loved for years.  
I had a chance to chat with Allison to find out more about her practice, what it's like to work as an artist in Alberta and who her favourite Alberta artist is (hint: it's our province's first Artist in Residence!).
Alberta Foundation for the Arts:  Tell me about your practice.
Allison Tunis: I have two ways of working really, as I have two very different mediums that I work in. My embroidery practice is something that I have honed over the last 20 years, and while it is always improving still, it is a healing process for me and is designed to be a comfortable practice. I work in a big squishy armchair in my living room, with tea on hand, and I spend a lot of hours just sitting and stitching, with a bit of computer design and digital planning in the beginning stages.
However, I am also currently the artist-in-residence at Harcourt House, an artist-run centre, and my studio practice is quite a bit different. For this residency, I am developing a series of large-scale mixed-media paintings that involve gel photo transfers, text and embroidery, as well as an interactive installation to explore themes about our society's use of language towards and about fatness and its effects on people, such as myself. This is a much more expressive practice for me, although this particular residency involves a fair amount of research and repetitive data entry in the beginning stages.
AFA: What's it like being an artist in Alberta?
AT: Being an artist in Alberta is very exciting in my opinion. While we may not have the same reputation as some of the larger cities such as Vancouver and Toronto, the support artists get in Edmonton and Alberta is fabulous. I have been privileged to be offered some unique opportunities to have my work travel around Alberta, including with the TREX program, and bring my concepts and techniques to venues outside of large cities and to audiences that may not normally engage with art is an amazing feeling.
AFA: What inspires you?
AT:  I'm inspired by communities that form out of hardship and the resilience of people. The work I do is heavily influenced by real individuals in our (larger) communities and the need for diverse and authentic representation in art and media. The abilities of human beings to persevere and create positive change out of trauma and hurt is amazing, and I strive to use my art to heal, acknowledge and share from my own experiences.
Image Credit: Allison Tunis, Sam, embroidery on cloth, 2017. Collection of the Alberta Foundation for the Arts. 
AFA: How do you want people to feel about your art?
AT: I don't have a certain way I want people to feel about my art, but I do hope that my art challenges people to think about some of the ways our media and art has regulated what we consider to be beautiful, what we consider to be valuable, what we consider to be important. My work is asking questions, but not necessarily giving answers, and it's up to viewers to decide how they feel and what they believe. I also hope that viewers that live in marginalized bodies are able to see themselves represented and validated in my works through literal visual representation and/or connections to broader human experiences and concepts.
AFA: What is your favourite part of the art-making process?
AT: My favourite part of the art-making process is the last hour of an embroidery piece. The sense of accomplishment after dozens (if not hundreds) of hours of work is wonderful, but also the details really only appear when you have all the stitches in place so it's a beautiful moment of getting to finally see the whole picture of weeks and months of staring at blotches of colours.
AFA: Your work is in the AFA's art collection. How does that make you feel knowing your work is part of an art collection that belongs to all Albertans? Note: Allison's work came into the AFA collection through the Art Acquisitions by Application program.
AT: The fact that two of my pieces are in the AFA collection is almost surreal to me. I am so passionate about the work I create, and the fact that my province and home feel that my work is of the calibre that they would like to own it and show it to our communities is an honour. It's also very exciting to think that these traditional techniques are still valued and can be used in ways to communicate new and impactful technology and concepts to Albertans and beyond.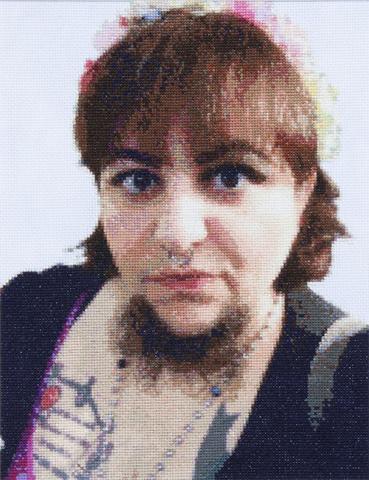 Image Credit: Allison Tunis, Little Bear, embroidery on cloth, 2017. Collection of the Alberta Foundation for the Arts.
AFA: Who is your favourite Alberta artist?
AT: That's a tough one! One of my favourites is Lauren Crazybull, the first Artist-in-Residence for Alberta. I've been familiar with her art practice and her work in the community for a while, and I am so excited to see that she has been selected for this new opportunity.
AFA: Tell us a fun fact about yourself.
AT: I was an abstract color-field painter for three out of four years of my Fine Art degree. I abruptly changed paths in my last year to focus on more conceptual works about bodies, sexuality and social issues.
AFA: Thank you for taking the time answer my questions, Allison!
AT: You're welcome.
Allison has a BFA (2008) from the University of Alberta, with a focus on painting and drawing and also a Graduate Diploma from the Vancouver Art Therapy Institute (2014). In addition to her artistic practice, Allison also runs a Queer Youth Art Club for LGBTQIA2S+ youths twice a month. It's a free space for young people ages 14-24 run out of the Alberta Sex Positive Education & Community Centre, where they can explore different art themes and materials, whilst building safe(r) communities.
Allison's work from the AFA art collection can been seen in two Travelling Exhibition Program (TREX) exhibitions, including Real Women, developed by the Art Gallery of Alberta and curated by Shane Golby. It will travel Alberta from now until August 2020. She is also has a new exhibition at Harcourt House that is on view until November 23, 2019.