On September 29, 2022, we marked the 50th Anniversary of the AFA Art Collection. As part of the celebrations, we are sharing snippets from the history of the collection.
Learn more about the celebrations! 
By Erin McDonald, former Manager, Art Collections
2015 was dubbed Canada's Year of Craft.  It was a year which saw a significant increase in craft creation and related activities. Alberta was abounding with artists and galleries that specialized in the creation, sales and collection of fine craft media. 
With a number of unique artworks available, the Alberta Foundation of the Arts (AFA) had made the acquisition of fine craft media a priority for the AFA Art Collection. 
You might be interested in this…
The AFA was contacted in the summer of 2015 about something that might be of interest to them—a significant collection of ceramic works by Albertan artists. 
Joan and Tom Chapman, located in Red Deer, were in possession of large cache of ceramics that they had collected over the years and were seeking a suitable storehouse for the works. 
About the Chapmans
The Chapmans owned and operated Chapman Galleries (1974 – 1984) and Four Corners Gallery and Framing (1988 – 1998) in Red Deer, Alberta.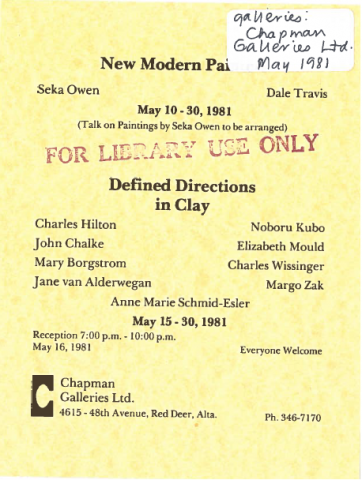 From the Resource Centre files, an original invitation to a Chapman Galleries exhibition
For two decades, Joan and Tom were at the heart of the resurgence of studio and design potteries which combined distinctly modernist approaches to art, with traditional forms and techniques. 
A fine craft resurgence in Alberta
This resurgence ushered in an era of brilliant artists that inspired and explored Alberta's burgeoning studio pottery world. These included:
Noboru Kubo
John Chalke 
Jane van Alderwegen
Harlan House
Charles Wissinger
and many other talented artists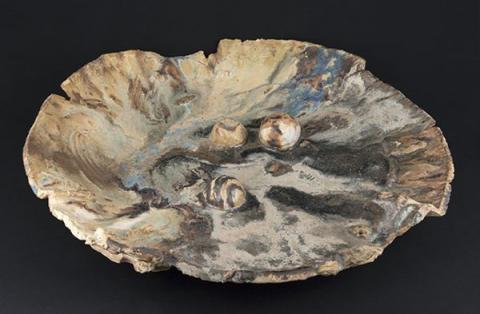 John Chalke, BASECAMP, n.d., ceramic, AFA Art Collection
Fit to print
During this time, the AFA Art Collection had also released a series of publications that accompanied travelling exhibitions to highlight the evolution of the mid-century ceramics movement in Alberta. 
These exhibitions travelled throughout province, with stops in places like Red Deer, Lethbridge, Edmonton, Calgary and Grande Prairie. 
Early Albertan works and artists were identified as part of the nascent clay tradition that began post-World War II in, Studio Ceramics in Alberta 1947-1952 (1981).
The publication featured an interview with Luke Lindoe, and early works by Greg Arnold, Walter Drohan, and Lindoe himself. 
The second publication, Studio Ceramics in Alberta II, 1953-1963 (1982), explored the emergence of the ceramics department at the Southern Alberta Institute of Technology & Art, and the emergence of the Edmonton Potters' Guild in 1953. 
The publication showcased artists like Sibyl Laubental, Vivian Lindoe, and Katie Ohe, and highlighted the strength of female artists in the medium.
In 1984, the last in the series, Alberta Clay Comes of Age: Studio Ceramics in Alberta III, 1964-1984 was released.
The exhibition and catalogue featured emerging artists like Ed Drahanchuk, Annemarie Schmid Esler, and Tony Bloom who would ultimately become synonymous with the ceramics movement in Alberta.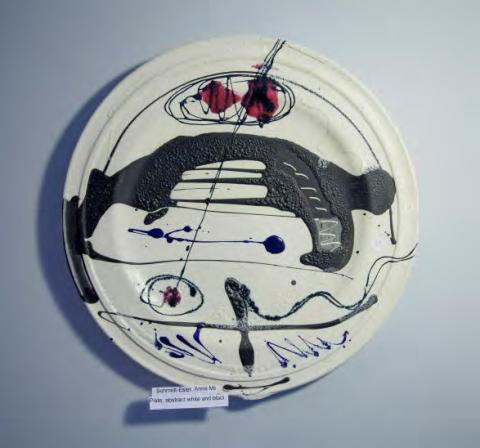 Annemarie Schmid Esler, PLATE, ABSTRACT BLACK AND WHITE, n.d. ceramic, AFA Art Collection
Seeking a home for art
When Joan Chapman retired, she and Tom retained a number of their favourite artworks in their own personal collection. In 2015, the Chapmans were ready to downsize their personal collection and wanted a proper home for the art.
In particular, they sought a public collection that would ensure that the ceramic arts of Alberta would be shared broadly. At the same time, the AFA was seeking fine craft media to acquire and possessed the ability to store and care for the works. Perfect partners. 
Hidden gems
The significance of the Chapman's personal collection was discovered during a studio visit to the Chapman home in August 2015. 
Significant pieces by Albertans were found in the holdings. Many created during periods previously unrepresented in the AFA Art Collection: an abundance of mid- to late-century modern Alberta ceramics. Hidden gems.
Flute
Tony Bloom's Flute was an incredibly exciting find that was offered by the Chapmans after the studio visit.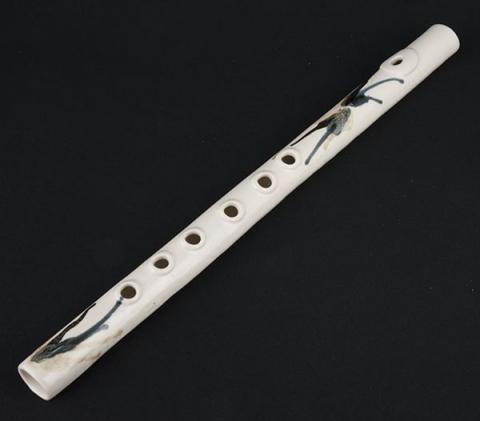 Tony Bloom, FLUTE, ca. 1970-2, ceramic, AFA Art Collection
Found in a drawer, Flute was one of Bloom's earliest explorations of ceramics. Having later examples of Tony's work in the collection, Flute was an incredible addition to the holdings for the purpose of curatorial research and documenting an artist's career.
Narrow Neck Vase
Works such as Toru Hasegawa's Narrow Neck Vase were discovered. Works such as this can be used as a reference point to note stylistic changes in an artist's practice over time. 
Hasegawa's previous works are from the same period, but are in the medium of stoneware and represent his exploration of more sculptural forms. Meanwhile, this functional vase shows his delicate application of colour, mimicking brush strokes of traditional Japanese-style painting.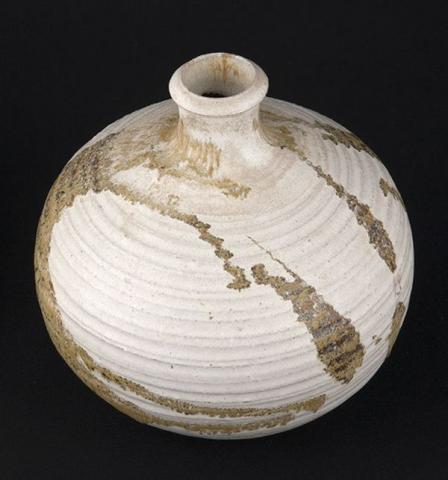 Toru Hasegawa, NARROW NECK VASE, 1968, ceramic, AFA Art Collection
This work highlights Hasegawa's formal training from Kyoto Sakuge University before he moved to Hinton, Alberta in 1967 to study in the studio of Frank Kiyooka.
A donation for all Albertans
In December 2015, the AFA Board approved a motion to accept the generous donation from the Chapmans. There were 33 artworks added to the AFA Art Collection's holdings, including 23 ceramics.
These works tell the story of the incredible evolution of studio ceramics in Alberta, the significance of one small central gallery, and its connection with the AFA Art Collection four decades later.
Generous donors, like Joan and Tom Chapman, help the AFA to acquire historic and contemporary artwork that increases the value of the art collection as a legacy for the people of Alberta. 
View AFA Ceramics