Image credit: Dr. Joane Cardinal-Schubert. Photo by JustinJHCSchubert (own work) [CC BY-SA 4.0 (Open license)], via Wikimedia Commons.
Image cropped and combined with photo of Becca Taylor for this web page, and the AFA's 50th Anniversary branding has been added.
Photo of Becca Taylor is by Katy Whitt Photography
On September 29, 2022, we marked the 50th Anniversary of the AFA Art Collection. As part of the celebrations, we are sharing snippets from the history of the collection.
Learn more about the celebrations!
In part two of our look back at the impact Dr. Joane Cardinal-Schubert has had on the AFA Art Collection, we look at the Fellowship for Indigenous Curators and the next generation of acquisitions by Indigenous artists. Read part one. 
AFA creates the Dr. Joane Cardinal-Schubert Fellowship for Indigenous Curators
In 2018, the AFA announced a one-time fellowship designed to support the growth and development of curatorial talent and enhance representation of Indigenous artists in the AFA Art Collection. 
The project's intention was to bring a new perspective to art acquisition at the AFA and build on previous work undertaken by the late Dr. Joane Cardinal-Schubert, who provided curatorial consultation to the AFA in 2008 and 2009. The fellowship was named in her honour. 
After a competitive application process, the AFA was pleased to announce that Becca Taylor was awarded Dr. Joane Cardinal-Schubert Fellowship for Indigenous Curators.
About Becca
Becca Taylor is a curator and multi-disciplinary artist with Cree, Scottish and Irish descent. According to her application, her curatorial practice involves investigations of Indigenous community building, Indigenous feminisms, methodologies of gathering and ephemera of living actions.
She was awarded the Aboriginal curator-in-residence, from the Canada Council in 2015, a 12-month residency at Urban Shaman gallery in Winnipeg where she curated Traces (2016.) In 2016-17 she was the Indigenous Curatorial Research Practicum at the Banff Centre, curating A light left on (2016.)
Notably, Becca co-curated the 4th iteration of La Biennale d'art contemporain autochtone (BACA) with Niki Little, entitled níchiwamiskwém | nimidet | my sister | ma sœur (2018), co-led land-based residency, Common Opulence (2018), in Northern Alberta and curated Mothering Spaces (2019) at the Mitchell Art Gallery.
Becca is the Executive Director of Ociciwan Contemporary Art Collective in Edmonton.
The project
Becca's final report, Kahkekwask / From Here to There was completed in June 2019. It provided the AFA with a variety of recommendations to broaden the AFA Art Collection to represent more Indigenous artists and artworks through all acquisition programs, as well as to offer greater support for Indigenous artists, including through building relationships and trust with Indigenous communities. 
Since the report was completed, the AFA has acquired nearly fifty artworks by Indigenous artists through curatorial purchase, donation, and the Art Acquisition by Application program. Some highlighted artists and artworks include...
MJ Belcourt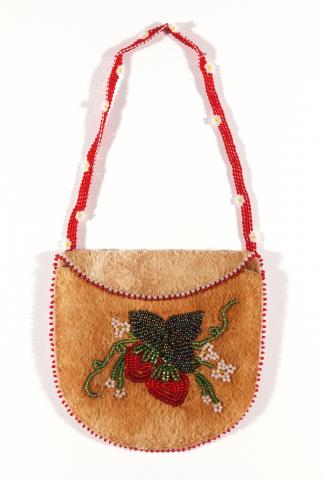 2022.032.001 MJ Belcourt, First Fruits, n.d., smoked moose hide, glass seed beads, thread, fabric
MJ Belcourt is a certified Native Art Instructor, curator, and Indigenous artist residing in Treaty 6 territory. Her mixed Métis ancestry is Mohawk, Cree, and French with family ties to the Michel Band and the community of Lac St. Anne. Through a desire to build a closer connection and understanding of her Métis bloodline, Belcourt has remained naturally drawn to the traditional Indigenous arts of her ancestors.
She works in a variety of Indigenous art forms including beadwork, porcupine quill, fish scale, moose and caribou hair, and the art of creating natural dyes.

2022.032.002 MJ Belcourt, Pass System, n.d., smoked moose hide, glass seed beads, tin cones, thread
In 2022-23, the AFA acquired two artworks from MJ Belcourt: First Fruits and Pass System. Both are native tanned smoked moose hide pouches embellished with beading and other traditional decorative elements.
Lauren Crazybull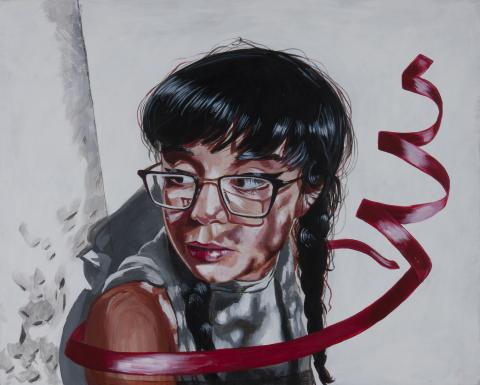 2019.035.002 Lauren Crazybull, Self Portrait, 2018, acrylic on board
Lauren Crazybull is a Niitsítapi (Member of Kainai First Nation), Dené artist. Lauren won the 2020 Eldon & Anne Foote prize, 2020 Lieutenant Governors Emerging Artist Award and was shortlisted for the Kingston Portrait Prize in 2019. In 2019, they were selected as the first Alberta Artist in Residence/Arts Ambassador. Lauren currently resides in Vancouver, having recently completed her MFA at Emily Carr University of Art + Design. 
In her work, Lauren considers Indigenous presence and multiplicity through paintings, creating worlds where honest portrayals trespass onto romantic representations of Indigeneity. Working primarily in portraiture, a long-standing genre that is often embedded with an imbalance of power between the artist/viewer and sitter, Lauren seeks to examine the relationship between herself as an artist and the individuals she paints. 
The AFA has acquired two artworks by Lauren Crazybull as of 2023.
Kablusiak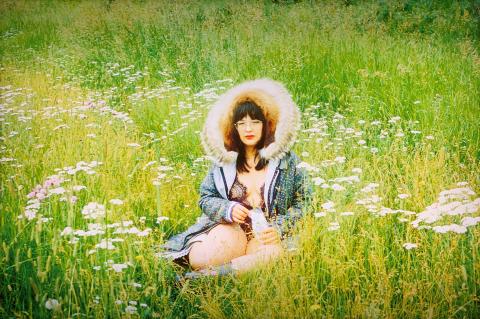 2021.017.001 Kablusiak, Piliutiyara (Saltwater Taffy), 2020, photograph with backlit film in lightbox
Kablusiak is a multidisciplinary Inuvialuk artist and curator who uses Inuk ingenuity to create work in a variety of mediums including, but not limited to, lingerie, white flour, soapstone, permanent marker, bed sheets, felt, acrylic paint, and words. Kablusiak holds a BFA in Drawing from the Alberta University of the Arts in Mohkinstsis, where they are currently based.
Their work explores the dis/connections between existence in the Inuitdiaspora while maintaining family and community ties, the impacts of colonization on Inuit gender and sexuality expressions, as well as on health and wellbeing, and the everyday.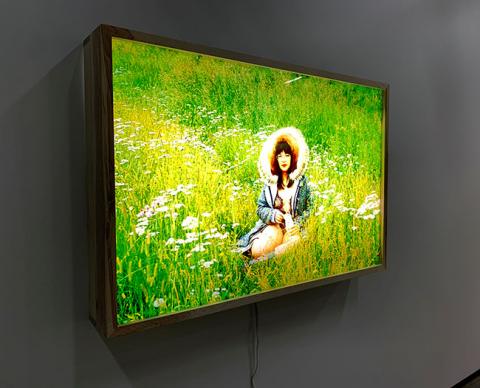 2021.017.001 Kablusiak, Piliutiyara (Saltwater Taffy), 2020, photograph with backlit film in lightbox (alternate view)
In 2021, Kablusiak was part of a team of four Inuit curators who curated the inaugural exhibition for Qaumajuq, entitled INUA. In all of their creative work Kablusiak seeks to demystify Inuit art and create the space for Inuit-led representation of the diverse aspects of Inuit cultures.  
The AFA Art Collection holds 26 artworks by Kablusiak in 2023.
Dwayne Martineau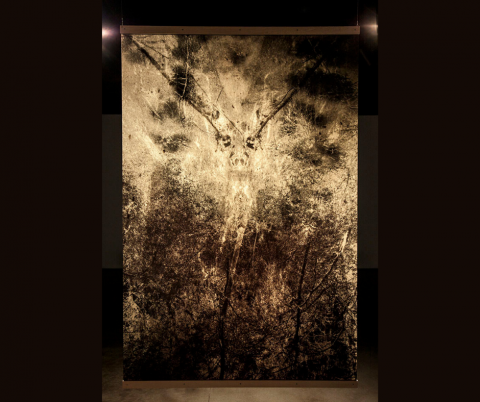 2021.013.001 Dwayne Martineau, Strange Jury #2, 2021, photograph on backlit film
Dwayne Martineau is an Edmonton based visual artist and musician. He is a treaty member of Frog Lake First Nation, descended from Plains Cree, Métis, and early French and Scottish settlers.
He enjoys seeing the world like a child full of discovery. Also, he approaches the world with a critical mind, seeking both truth and wonder. His visual arts practice began with experimental landscape photography, and has evolved to include videography and immersive large-scale art installations.
The AFA acquired Strange Jury #2 as part of the 2021 cycle of the Art Acquisition by Application program. This artwork is one of five artworks included in the Strange Jury Series. When installed in a gallery, five giant prints are hung in a circle off the ground to depict five characters of the forest with animistic faces.
Jessie Ray Short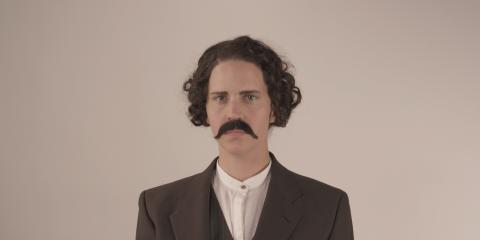 2019.039.001 Jessie Ray Short, WAKE UP!, 2019, experimental film, 5:57 mins
Jessie Ray Short is an artist, filmmaker and independent curator of Métis, Ukranian and German descent whose cross-disciplinary practice involves memory, visual culture and Métis history.
She has shown her work nationally and internationally, including at the Banff Centre for the Arts, Agnes Etherington Art Centre in Kingston, at La Chambre Blanche in Québec City, Art Mûr Berlin (a satellite exhibition of the Contemporary Native Art Biennial/BACA) in Germany, and at the Wairoa Maori Film Festival in New Zealand.
As a curator, she has had the opportunity to work on various projects most notably Jade Carpenter: Mourn at City of Calgary Open Spaces Gallery and Mixed Berries: Amanda Strong and Bracken Hanuse Corlett at Gallery 2, Grand Forks, BC. She has worked for the Ociciwan Contemporary Art Collective, based in Edmonton, and for TRUCK Contemporary Art in Calgary.
WAKE UP! is an example of media artwork included in the AFA Art Collection. In the film, a Métis woman explores identity by transforming herself into one of the only widely known Métis icons, a man named Louis Riel, who lived over 100 years ago.
Read Becca Taylor's 2018 curatorial statement for the fellowship:
Alberta has an expansive and diverse Indigenous community living in and outside of it.  The changing landscapes within Alberta have different pieces of knowledge and teachings reflecting across the terrains; with different Indigenous groups living either in rural or urban settings, or both, whose lived experiences are reflected within their work. Some artists have formal institutional education, some with education from the land and our ancestors; but we all have an inherent perspective and embodied knowledge of what it means to be an Indigenous person living in Alberta.

For the next 6-months, my curatorial research will be based on my teachings of the medicine wheel. Looking at artists from the different quadrants of Alberta, as well as, a range of professional experience within each quadrant, from emerging to established artists; learning from and listening to the different perspectives and insights from different regions, nations, ages and experiences.

I view this research project to be as informed and diverse as possible to reflect the extraordinary past, present and future of Indigenous contemporary art in Alberta. Through conversation and travel, I anticipate meeting many more artists whom I do not know at this moment. Using my resources and community in Alberta to expand my knowledge of artists working here and those who have lived here and made an impact while doing so.
Continuing legacy
Through the foundational work provided by Dr. Joane Cardinal-Schubert, built upon by Becca Taylor, and through continuing engagement with Indigenous artists, Elders and communities of practice, the AFA is pleased to continue to increase representation of Indigenous art in the AFA Art Collection.
See our current holdings of Indigenous artworks through the AFA Virtual Museum. 
AFA Virtual Museum