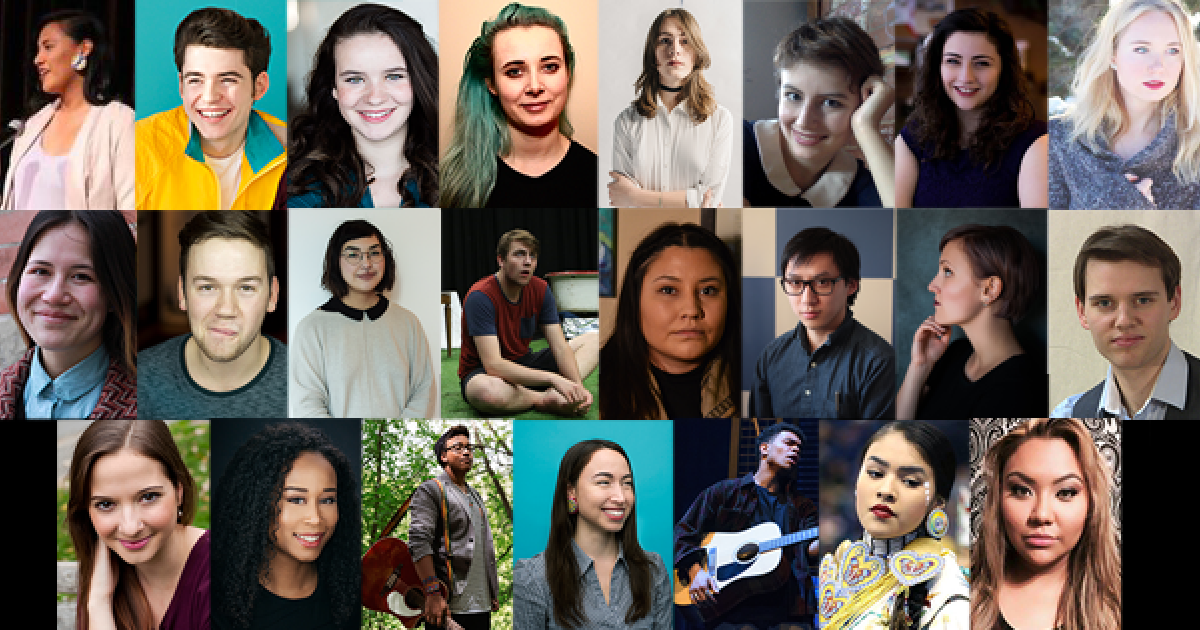 We're excited to announce recipients of the $2,500 Young Artist Prizes.
These artists were nominated by our the AFA Influential Alberta Artists as part of a one-time funding opportunity to commemorate the AFA's 25th Anniversary. Each of these emerging artists have already made an impact on their community and are well on their way to honing their craft to become the next generation of influential artists.
We look forward working with these talented individuals as we ring in the next 25 years of arts in Alberta.
Learn more about each of the artists below:
 

Young Artist

Influential Artist Nominator

Bio

Alanna Blackrider-Onespot

Nominated by the Making Treaty 7 Cultural Society on behalf of Michael Green & Narcisse Blood

Alanna is an indigenous writer, a poet, and a performing artist who uses her creativity to empower youth and express herself. She has travelled to multiple countries and communities to share her spoken word poetry, and facilitates art workshops in her community to share the healing benefits of art with youth.

Alex Smith

Michelle Minke

Alex is what the performing world calls a triple-threat: he can sing, dance, and act at an exceptional level. He has performed nationally and internationally, including performing for more than 10,000 people a night at the MUNY in St. Louis.

Angel Berry

Nominated by Connie Edwards on behalf of Gil Cardinal

Angel is an award-winning actress, producer, and spoken word artist. She is also the author of three children's books, and has over 21 film and TV credits at age 14.

Anna Semenoff

Chris Cran

Anna is currently in her third year at the Alberta College of Art and Design, majoring in sculpture. She is primarily interested in working with video art in a sculptural format, creating artworks unlike anything seen before.

Cassia Hardy

Lorrie Matheson

Cassia Hardy is a musician and songwriter. Since starting her musical project Wares in 2013, Cassia has gained national prominence for her distinctive style of songcraft, mixing classic folk sensibilities with grimy, hair raising punk rock.

Celia Taylor

Marty Chan

Celia founded her theatre company, Empress of Blandings Productions in 2015 with the goal of reviving old or forgotten works and bringing them to life for new audiences, in new and unexpected ways.

Charlotte Cranston

Alice Major

Poet, performer and organizer Charlotte Cranston was named Edmonton's first ever Youth Poet Laureate in 2015, during which role she founded YEP--Young Edmonton Poets--a safe, compassionate, regularly-running writing circle for Edmonton-based teens and pre-teens.

Erin Vance

Aritha van Herk

Erin Vance is an MA student in English Literature and Creative Writing at the University of Calgary. She has already published over 60 poems and 50 non-fiction articles in various magazines, journals, and anthologies, with more on the way.

Gillian McKercher

Sharon Stevens

Gillian McKercher is a Calgary-based filmmaker. Her work explores the differences between what individuals want and what they receive. Specifically, Gillian is interested in how circumstance affects our actions. Gillian most notably directed The Calgary Collection web-series, which profiles Calgary's folk music community.

Griffin Cork

Trevor Anderson

Griffin Cork has been working professionally in the theatre, film, and voice-over industry for over ten years. Griffin was deemed an Arts Champion of Calgary in 2012 by Calgary Arts Development Association and His Worship, Naheed Nenshi, and won the Duval Lang Theatre for Young Audience Emerging Leader Award at Calgary's Betty Mitchell Awards.

Jade Carpenter

Nominate by Mike Schubert on behalf of Dr. Joane Cardinal-Schubert

Jade Nasogaluak-Carpenter is an Inuk artist based in Calgary, born in Yellowknife and raised in Edmonton. Jade uses art and humour as a coping mechanism to subtly address diaspora, and to openly address mental illness. Her work aims to counter the stigmatism surrounding mental health.

Jake Tkaczyk

Lynda Adams

Jake is an Edmonton-based theatre artist in his final year of the BFA Acting Program at the University of Alberta. Also a graduate of Red Deer College's Theatre Performance and Creation program, Jake has worked as an actor, director, creator and teacher in Edmonton and around central Alberta.

Kaitlyn Purcell

Rudy Wiebe

Kaitlyn Purcell is a Dene writer, artist, student, and storyteller. Kaitlyn plays with syntax and style, integrating poetry into prose to illustrate the chaos that comes with addiction, mental illness, and rehabilitation.

 

Kevin Dong

Gary Burns

Kevin Dong is a Calgary-based filmmaker whose work engages with the material, temporal, and experiential qualities of film and video, articulated primarily through the process of editing. Currently, Kevin is working on a project that explores the routines and rituals of suburban life.

Mallory Chipman

Tommy Banks

Mallory Chipman is taking the jazz scene by storm with her thoughtful compositions, fearless improvisation, and unforgettable performances. Highlights from her career include playing sold out shows in jazz festivals; touring abroad to London, Amsterdam, and Dublin; and singing back-up for the legendary rock group, Heart.

Nick Samoil

Darrin Hagen

Nick Samoil is a singer-songwriter, composer and pianist who works in all musical disciplines including theatre performance and sound design, film scoring, recording and performing. His folk, rock and R&B influenced original songs are born of a need to communicate his feelings about personal interaction with the people and world around him.

Rebecca Sadowski

Gerry Morita

Rebecca has trained in dance, acting, and voice from a very young age. Currently, Rebecca is working on choreographing a dance inspired by her Métis heritage and continues to learn Metis styles of dance and craftwork.

Sabrina Comanescu

Vicki Adams Willis

Sabrina "Naz" Comanescu is a dance instructor, performer, and choreographer. Sabrina is also the current major force behind The Diversity Performing Arts Club of Calgary and created Casa De Naz in 2012, a collective with a mission to "excite and educate art hubs across Canada about the thriving Caribbean community in Calgary and the arts of the Caribbean as a whole through film, fashion and dance"

Sympa Cesar

France Levasseur-Ouimet

Sympa plays a range of different instruments including the piano, guitar, bass, drums and ukulele. He hopes to release a bilingual EP soon, and already begun recording some of his original works in hopes of getting his name out into the musical communities of Alberta.

Tamara Cardinal

Katie Ohe

Tamara Lee-Anne Cardinal is a multi-media artist, community activist, oskâpêwis, storyteller and life-long learner. In the studio, Tamara is currently exploring notions around death, rebirth and revitalization in her work.

 

Teryn Evans-Tennant

Bob Baker

Teryn began his acting career in 2015 through the Young Acting Company program at the Foote Theatre School. Since then, his passion for acting has grown, and he has passionately thrown himself into several roles and continues to seek out opportunities to hone his craft.

Tia Jim-Wood

Northern Cree

Tia sings Indigenous, round-dance, peyote, pow-wow, R&B, Blues, Country, Alternative and pop. Tia is also a pianist, drummer and dancer, and has been asked to represent the Gathering of Nation's Pow-wow 2017, in the capacity of, "Head Young Lady Dancer of the Gathering of Nations."

Tishynah Buffalo

Dallas Arcand

Tishynah Buffalo is a Cree Fashion Designer from Alexander First Nation Alberta. Her designs are Traditional Native prints with a mix of modernized fabrics, she adds her Cree floral beadwork to incorporate her Cree culture. Her most memorable fashion show was New York Couture Fashion Week.
On June 20, 2017, we announced the Young Artists at an event at the Alberta Federal Building in Edmonton, which was streamed live through the AFA Facebook page. Watch the video on Facebook.
Know an exceptional young artist? Consider applying for one of the AFA's scholarships.