To celebrate 25 years of the AFA, we're taking a look back at how we came to be, favourite milestones, and some of the amazing artists we've encountered along the way.  
By Barb Mah, Arts Development Consultant
Each fall, Alberta and the rest of Canada celebrates Culture Days -- a weekend in September filled with all sorts of family friendly arts and culture activities ranging from museum tours, to free admission at art galleries, to performance workshops, and much more.
It's hard to believe that this arts filled weekend has only been around nationally since 2009. But did you know the very first one happened in Alberta in 2008?
Back in the Days of Yore, the Ministry of Culture decided that a day devoted to the celebration of arts would be a really good idea. Naturally, it was up to the Arts Branch to plan and coordinate this day of art. We were excited as Arts Days was born.
Our initial excitement gave way to uncertainty when we realized we had zero blueprints to follow. What would this celebration look like? Who would we invite? What activities would we do? Fortunately a new manager Anita Lunden was assigned to wrangle us into some semblance of a team. Allison Pfeifer (nee Kwan) and Allison Carter-Nitchke assisted her, forming a team we liked to call the Triple A.
I'm not saying we were ambitious, but for that day we decided we would:
Commandeer the Southern Jubilee and run free family programming all day in four disciplines: film, dance, music, theatre
Invite a ton of artists including the Alberta Ballet and the Calgary Symphony, to put on an event that night
Create three lifetime achievement awards 
Performing Arts: the Tommy Banks Award
Literary Arts: the Grant MacEwan Award
Visual Arts: the Marion Nicoll Award
Somehow that little team of three managed to get word of "arts day" out to all the libraries and municipalities in Alberta, inviting them to celebrate the arts, and share their activity on our website.
I was personally in charge of the "Alberta short films" portion of the day at the Jubilee. I know that every artist I contracted to share their work was thrilled to be invited. I'm sure the same was true for my colleagues. In the end, we had programmed an arts crammed day including:
Free performances in the Jubilee lobby
A series of dance workshops in the downstairs banquet room
Animation workshops in the downstairs lobby
Short film screenings in the "Jubilee Room" upstairs
Author readings in the upstairs alcove
Film editing in the upstairs balcony
Triple A were also responsible for programming artists (and stage managing) that evening's big performances on the main stage (the day was spent doing sound checks and spacing). The arts awards would be given out that night between acts. We would have called this show a Gala, but that was thought to be too formal, so it was deemed a "non-gala Gala."
We had set ourselves a big party and invited all of Alberta. Now we could only cross our fingers that the people would find this as exciting as we did and show up!
I have very fond memories of packing up displays and charts and contracts alongside my fellow consultants, squeezing everything into a van and driving down Highway 2 to Calgary. I imagined that we looked like travelling gypsies (although with the amount of stuff we had tied to the roof, the Beverly Hillbillies might be a more apt metaphor).
Well, the people came. And came and came. We ran ourselves ragged, not quite believing that so many people were as happy to celebrate the arts as we were. I'm sure some things went awry that day ("Could someone please turn down those taiko drums in the lobby? They're interfering with the poetry") and the night's performances ran way longer than we had initially predicted (lots of art on that stage). But everyone — the public, the artists, the staff, the Minister had fun.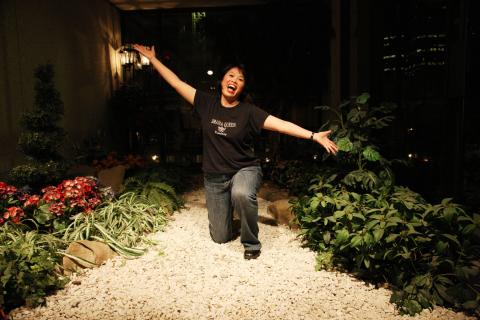 The one and only Barb Mah
In the end, we crowded into a large hotel suite, ordered pizza, scrounged up something stronger than pop and celebrated. It was an exclusive party — you had to know the password to get in: "non-gala gala."
After that first Arts Days, it became an annual event later renamed Alberta Culture Days in 2012, aligning it with arts and culture celebrations across the country. Alberta Culture Days continues to play a key role in connecting people and communities. 
More on Culture Days