To celebrate 25 years of the AFA, we're taking a look back at how we came to be, favourite milestones, and some of the amazing artists we've encountered along the way.  
By Erin McDonald, Manager, Art Collection, and Gail Lint, Art Collections Consultant
The AFA art collection has grown through a variety of methods of acquisition – including an annual open call (Art Acquisition by Application) curatorial purchase, donation, and commission. The formative years benefited from the generous donations of artworks from artists, collectors and benefactors. Donations were the stepping stones to building the collection in the first year – without them the collection may have faced a challenging time to establish its reputation and credibility. In 1973 the AFA received an unprecedented donation of 18 drawings by illustrious Group of Seven artist A.Y. Jackson who spent time in Alberta, documenting the landscape while visiting his cousin in the Lethbridge area.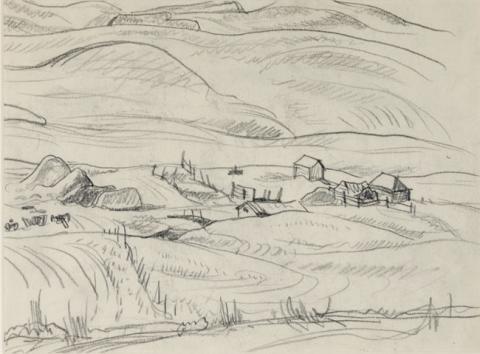 A.Y. Jackson, Rolling Landscape with Ranch, 1940, pencil on paper
Later the same year another donor approached the Foundation with a gift of an A.Y. Jackson oil painting which has been loaned to major institutions for numerous exhibitions: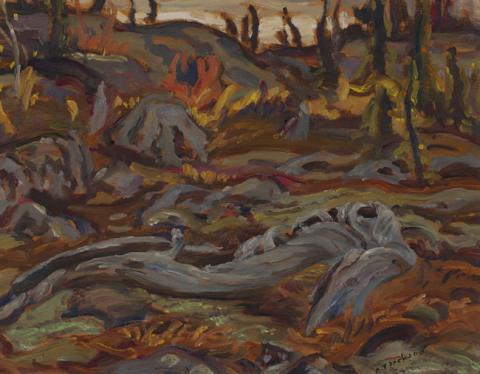 A.Y. Jackson, Northland Tapestry, 1950, oil on board 
Artwork by Arthur Lismer, another artist of Group of Seven fame, was gifted to the collection through a private estate. People may not realize that some of Canada's most celebrated artists can be found in the holdings of our provincial art collection.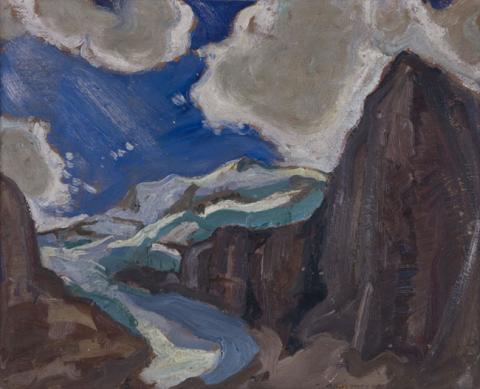 Arthur Lismer, High Glacier, c. 1926-1928, oil on board
Another highlight of our collection is acclaimed Canadian artist Emily Carr, represented by 2 artworks gifted in 1977 by a gallery owner in Eastern Canada – without the Art of Giving these Canadian icons may never have found their way into the AFA Collection.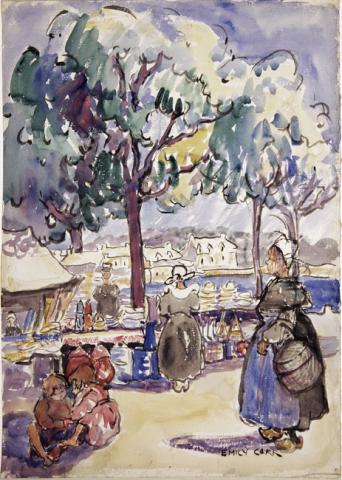 Emily Carr, Market by the Sea, Brittany, 1911, watercolour on paper
Throughout the years acquisition by donation has been one of the "foundation" building blocks to create a diverse, intrinsic and invaluable legacy collection. Alberta artists have contributed to the holdings with donations from their personal collections including their own artworks and those of colleagues. Major donations from Calgary based artists Jim and Marion Nicoll, during their days of productivity, and from their estate increased the holdings by over 400 artworks. They were instrumental in the development of the Alberta art scene and influenced and mentored numerous artists who became key players in the province.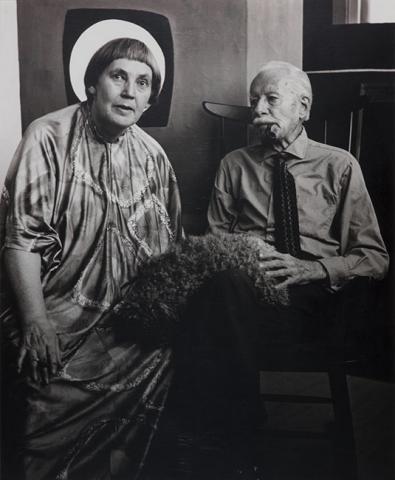 Unknown, James and Marion Nicoll, n.d., silver gelatin on paper
Their artistic styles were polar opposites with James focused on a traditional academic approach contrasted by Marion's eclectic exploration of modernist design and abstracted form.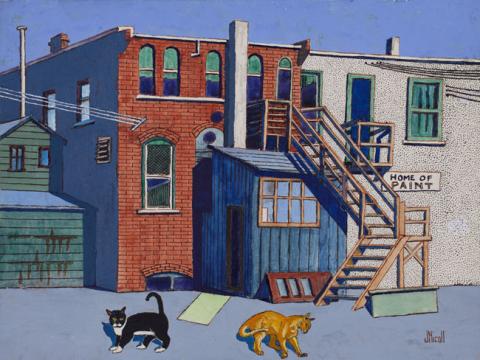 1981.155.002 James Nicoll, Home of Paint, n.d., oil and ink on canvas board, AFA Collection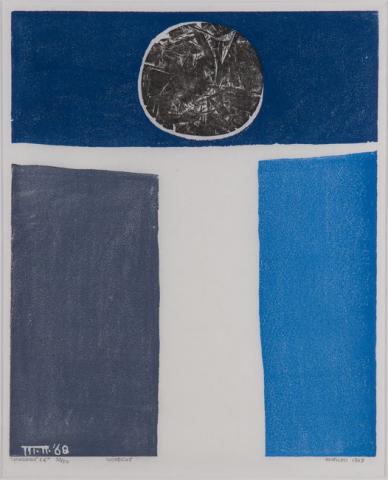 Marion Nicoll, January, 1969, woodblock on paper
Through the Art of Giving, donations to the AFA art collection account for approximately 25% of our artworks. Significant donations have been received over the past 40 years building the curatorial representation of some of the major artists in Alberta. In 1978 a gift from Illingworth Kerr featured a suite of over 50 drawings illustrating circus scenes and a journey to Africa followed by an additional donation in 1982 / 1983 of lino cut print portfolios depicting fauna accompanied by the original lino blocks.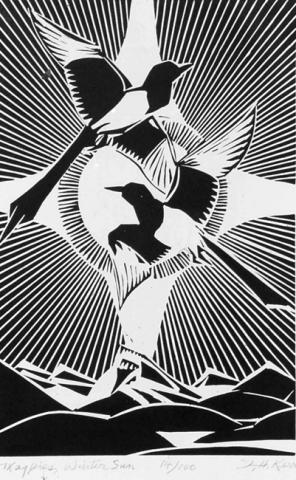 Illingworth Kerr, Magpies, Winter Sun, n.d., linocut on paper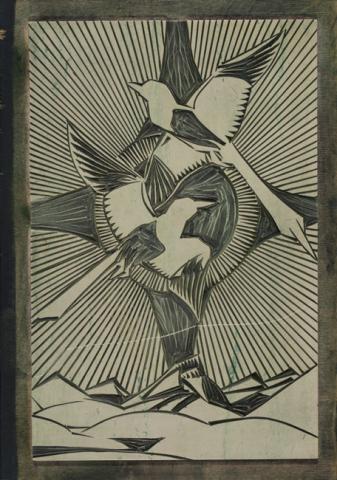 Illingworth Kerr, Magpies Winter Sun, n.d., original lino block & synthetic floor tile,
A donation deserving honourable mention came to the AFA in 1993 from Calgary artist R Gyo-Zo Spickett (a confirmed Zen Buddhist formerly known as Ron Spickett). A celebrated figure in the Alberta art scene, Spickett was also an educator and mentor at ACAD and U of C. He holds the AFA collection in high regards and although other institutions expressed interest in the artworks, the artist gave the AFA the first opportunity to make a selection. Arts Branch staff visited the artist's studio and recommended 24 paintings be accepted as a gift from the artist. At the time of the donation the artist had not painted since 1981 and had no intentions of doing so in the future, devoting his time to music and Zen Buddhism. In 2009, a major retrospective was on exhibit at the U of C Nickle Galleries featuring artworks from public and private collections. A catalogue by the curator, Geoffrey Simmons, entitled Spirit Matters: Ron (Gyo-Zo) Spickett, Artist, Poet, Lay Priest was published to accompany the exhibition. The AFA loaned 33 artworks to the exhibit, the majority of them gifted by the artist.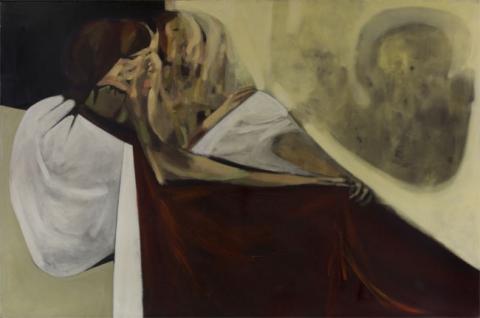 R. Gyo-Zo Spickett, Dream Painting, 1974, oil on canvas
To name and credit all the donations to the AFA collection would require a year of blog posts! A few additional donations worthy of mention (but only a sampling of them) include Janet Mitchell, Graham Peacock, Sveva Caetani, Robert Chelmick, Kay Angliss (ASA Highlights Prints – a complete set), RFM McInnis, Jacques Rioux, George Webber (photographer) and George Weber (printmaker), Ron Kostyniuk, Sylvain Voyer, Robert Scott, Hazel Litzgus, Greg Payce, Don Wells, Murray MacDonald, Les Graff and Peter Hide.
The Art of Giving to the AFA collection has been an invaluable to building this treasured art collection. A sincere thank you to all the donors and benefactors – where would we be without you?
Les Graff, Garden Things/Still Life, 2006, oil on canvas
Visit the Collection