Marigold Santos. Photo credit: Stacey Watson
Get to know an Alberta artist! There are more than 1,700 Alberta artists included in the AFA collection, and many of them are new or emerging contemporary artists. We are taking an opportunity to highlight some artists from the collection whose artwork is currently on exhibition or on tour. 
By Kimberly Van Nieuvenhuyse, Writer/Social Media Officer
Meet Alberta artist Marigold Santos
Born in Manila, Philippines and immigrating to Canada in the late 1980s, Filipinx-Canadian artist Marigold Santos is an interdisciplinary artist. Her practice ranges from drawing, painting, sculpture, installation and tattoo.
I had an opportunity to ask Marigold a few questions about her artistic practice, how her work as a tattoo artist influences her other artistic work and what her favourite part of the art-making process is!
Alberta Foundation for the Arts: How did you start making art?
Marigold Santos: I've always been creative and found myself drawn to making things ever since I was a child. I went through a period in my early post-secondary education where I stubbornly fought off my inevitable journey into art school by taking social sciences and religious studies in the first couple years of school. But when I realized that I was denying what comes most natural, I took some time off and went back to school to do my Fine Arts degree at the University of Calgary, and then I never looked back.
AFA: What is it like being an artist in Alberta?
MS: The art communities in Calgary and Edmonton are the ones I am the most familiar with as they are the cities I spend the most time in, and I find the people engaged and involved and quite open and supportive of each other. The greater public of Alberta also seem to be keen on supporting the arts.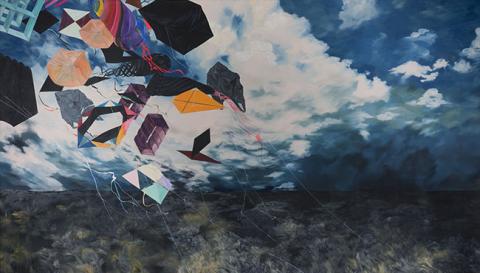 Marigold Santos, Flight, 2013. Collection of the Alberta Foundation for the Arts.
AFA: What is a misconception people have about artists?
MS: There are two misconceptions that I find most often and they relate to each other. The first is that art making is easy and that the life of an artist is less tiresome than other professions. And the second would be that artists are able to 'channel' their negative (and positive) experiences into their work and therefore your art is always an outlet. To address the first one, art making involves so much personal management and discipline, research, exploration and experimentation, and a lot of trial and error that is not for the faint of heart. There is also so many behind-the-scenes aspects of art making, from grant writing and proposals and submissions, to art storage and shipping, to coordinating and communicating with galleries that require balance and attentiveness on the part of the artist. And in terms of the second misconception—if it were only that easy.
AFA: Tell me about your practice.
MS: My work is informed by my diasporic experience and is presented in many drawings and sculptures, paintings and installations that address self-hood and identity as a result. The focus is in the many ways our landscapes (social, geographical and psychological) can shape us and how in turn the multiplicity and fragmentation of self that can occur when navigating various experiences can be something celebrated and embraced.
AFA: What inspires you?
MS: Part of reflecting on my family's immigration is considering what we 'take' with us and what we 'leave' behind, and in my situation because I was a small child, I realized that what I took with me was the folkloric stories of the Philippines that I was told as a child. Specifically, the character of the asuang (also spelled aswang), who is a scary and evil creature of folklore who takes on many shapes and personalities depending on who is telling the narrative and what region it comes from. In my work, the asuang becomes reconfigured from a malevolent creature, to one of strength and empowerment. And in my work, the asuang becomes a way for me to address contemporary issues of fragmented and multiple self-hoods.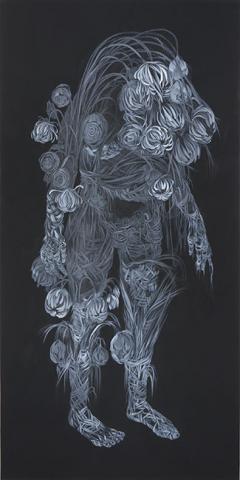 Marigold Santos, Of Wicker, acrylic on linen, 2016. Collection of the Alberta Foundation for the Arts. 
AFA: You are also a tattoo artist—how does that influence your other artistic work?
MS: Tattooing came to me because it was another way to make a mark. I have been receiving/collecting tattoos since I was 18, and it was an important way for me to create an image-symbol on my skin that represented something important in my life along the way.
I didn't consider being the person to give the tattoos until a couple years ago, and I decided I wanted to incorporate the technique into my practice, as it was a way for me to acknowledge the importance of ink in my pre-colonial heritage of the Philippines where there was a rich hand-poke tribal tattooing tradition. It was also a way for me to give access to my work in a different way than conventional ways, to open up my art-making practice where there is an intimacy between someone else and myself through the act of tattooing, as well as to enrich my knowledge base and to learn a new skillset through trading and sharing knowledge with other tattoo practitioners, who are, for the most part, women.
AFA: What is your favourite part of the art-making process?
MS: My favourite part of art-making is how selfishly absorbed I am in the process from beginning to end, and watching a work develop, and really only being able to digest it once it has been completed. Sometimes I am so hyper-focused when making a work that when it is finally finished, I often forget how I got there because, as silly as it might sound, I sometimes feel like I was in a trance!
AFA: What do you want viewers to take away from your work?
MS: That I am a feminist.
AFA: Your work is in the AFA art collection. How does that make you feel knowing that your work is part of an art collection that belongs to all Albertans?
MS: I think it's very cool that I am part of the AFA collection, because it makes me feel woven with the culture and community that helped me create foundations in my art experience. It is rewarding to be recognized as a practicing artist whose dedication and commitment to their research, experimentation, and work creates an impact worth investing in.
AFA: Who is your favourite Alberta artist?
MS: I don't have just one favourite, but to list some Alberta artists who I find hardworking and inspiring are Amy Malbeuf, Robin Arsenault, Kablusiak, Jane Trash, Stacey Watson, Foonyap, Nicole Kelly Westman, Tia Halliday, and Katie Ohe.
You can see Marigold Santos' most recent exhibition, MALAGINTO at the Dunlop Art Gallery in Regina. It is on view until January 12, 2020.