Get to know an Alberta artist! There are more than 1,700 Alberta artists included in the AFA collection, and many of them are new or emerging contemporary artists. We are taking an opportunity to highlight some artists from the collection whose artwork is currently on exhibition or on tour. 
By: Kimberly Van Nieuvenhuyse, Writer/Social Media Officer
Meet Alberta artist Karrie Arthurs
Karrie Arthurs is a Calgary-based artist who works with paper, ink and… skin! A long-time tattoo artist, Karrie says her two artistic practices influence one another—almost melding together.
I had an opportunity to find out more about Karrie's artistic practice and why she has a special connection to the paper she uses in her artwork.
Alberta Foundation for the Arts: What is your background?
KA: I received a BFA with Distinction, major in Drawing, from the Alberta Art and College of Design (now the Alberta University for the Arts) in 2000. I've had representation with the Christine Klassen Gallery since 2012. I have been actively tattooing for almost 20 years and have had my own shop since 2007 in Calgary. 
AFA: How did you start making art?
KA: As far back I can remember making art was essential to survival. It assisted me in problem solving and trying to understand issues that effected me. It gave me a voice and a means of expression.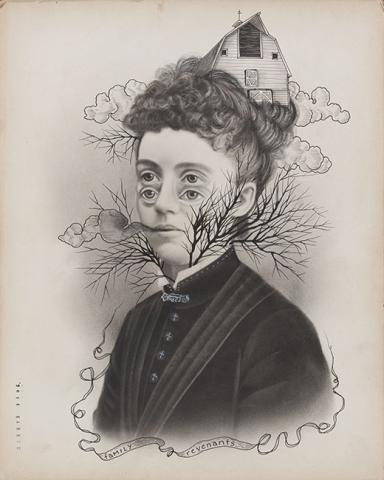 Karrie Arthurs, Locked Doors, mixed media on antique charcoal portrait, 2016. Collection of the Alberta Foundation for the Arts.
AFA: How does living in Alberta impact your art?
KA: I'm always inspired by my immediate surroundings and life experiences. Particularly in Alberta it's the landscape and the people that effect my practice; the mountains, the vivid seasons, the harsh winters, the steadfast settlers, the driven pioneers.
AFA: What is like being an artist in Alberta?
KA: I have never lived anywhere else so being as artist in Alberta is all I know. Seems pretty great to be honest. There is a good community here.
AFA: What is a misconception people have about artists?
KA: That it's hobby and not a career. And we are either brooding or whimsical.
AFA: Tell me about your practice?
KA: For several years now I have sourced and collected a large amount of "antique" paper, envelopes, documents, portraits etc. Some dating 150 years old or more. This is the material I drawn on with ink, charcoal and chalk primarily.
AFA: What inspires you?
KA: Everything inspires me. Music, a phrase of words, my personal relationships, the landscape, how I feel in relation to others, my childhood...everything.
AFA: You are also a tattoo artist—how does that influence your other artistic work?
KA: Being a tattooer and an artist I get a lot of visuals, sometimes it's over-saturated. One bleeds into the other because I'm inspired by both. Since I've been doing both for so long now the two practices sort of meld into one another and they no longer look very separate. It's all mark making in the end whether it's commission based or for my own practice.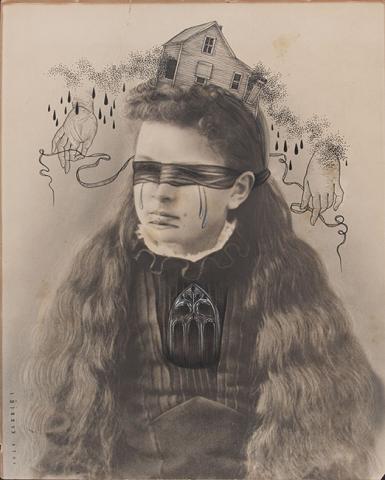 Karrie Arthurs, Family Revenants, mixed media on antique charcoal portrait, 2016. Collection of the Alberta Foundation for the Arts.
AFA: What is your favourite part of the art-making process?
KA: Probably when I'm in the process executing the image in my head into something tangible.
AFA: What do you think sets your work apart from other artists?
KA: I think what sets me apart is my relationship with the paper I'm using. It's like a person. It's been kept and treasured and had many hands on it, it almost has a soul. I like to keep the papers as much as I do use them to make art.
AFA: How do you want people to feel about your art? What do you want them to take away from your work?
KA: I want memories evoked. Past memories. When the viewer can see something in my work and relate it to a memory of their own that's incredible. I want to viewer to also think about time, aging, death, tradition, transition and other things related to the past.
AFA:  Your work is in the AFA art collection—how does that make you feel knowing that your work is part of an art collection that belongs to all Albertans?
KA: When I was in college I was able to go through the AFA Collection in its entirety in person, alone. It was humbling and memorable. Having my work in this collection is a dream come true. To be recognized by Albertans to leave a mark for all Albertans is incredible. I'm very humbled.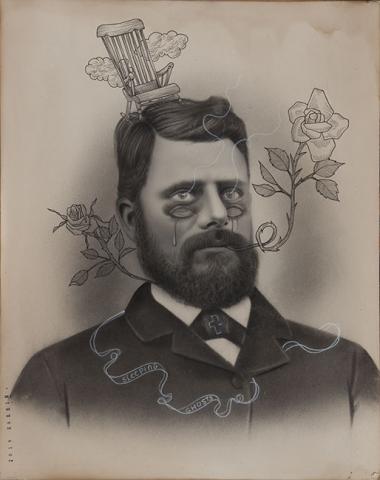 Karrie Arthurs, Sleeping Ghosts, mixed media on antique charcoal portrait, 2016. Collection of the Alberta Foundation for the Arts.
AFA: Who is your favourite artist?
KA: I'm a Chris Cran fan.
AFA: Tell us a fun fact about yourself.
KA: Well I probably don't look like any other artist in the collection. I have nice face tattoos and four gold teeth, haha!
AFA: Is there anything else you'd like to add?
KA: Just thanks a million, for liking my work enough and seeing something in it that you wanted to share with Albertans.
You can see Karrie's work in person as it travels the province as part of the TREX exhibition Permanence of Ink. The exhibition is curated by Danielle Ribar of the Art Gallery of Grande Prairie and is on tour now through 2020.