Join the AFA in recognizing its 30th Anniversary and the annual Month of the Artist by celebrating our local artists and arts organizations. Get to know Frederick Kroetsch, documentary filmmaker.  
Frederick is an Edmonton-based documentary filmmaker. Jump to his bio below. The World Premiere of his newest film, Blind Ambition: The Story of Wop May, will be on October 3, 2021, at the Edmonton International Film Festival. Check out screening info here.
We asked Frederick about his film, his practice, and about being an artist in Alberta...
Tell us about your documentary filmmaking practice.
For me, collaboration is key. Filming documentary content can be difficult and usually requires working with many other artists. There are directors, cinematographers, actors, animators, editors, foley artists…depending on the complexity and creativity it often means numerous people.
I also prefer to be diverse in the content I make. It ranges from commercial to abstract. There are numerous aspects to documentary, and I enjoy all of them.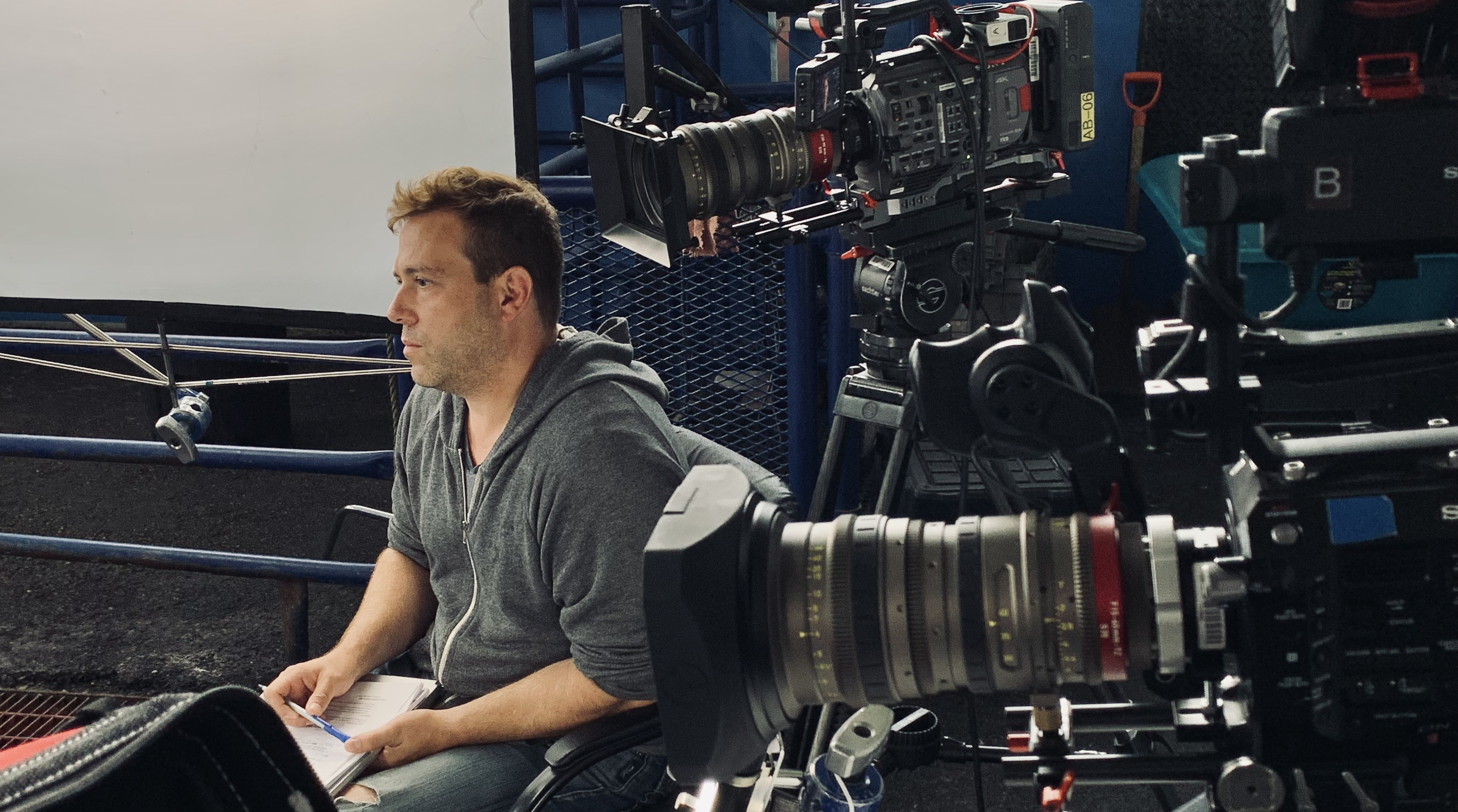 What do you want people to know about documentary filmmaking as an art form?
Documentary IS an art form. It isn't just reality TV, activism, and true crime retrospectives. Documentary has a long and celebrated history in Canada, with some proposing we make it our official art form.
Documentary is ubiquitous - our digital landscape is inundated with vlogs, Youtube, news organizations and Netflix. So much of that content falls into conventional tropes.
I'd like people to think about the way we tell our stories and seek out content that has style and originality. Next time you post a selfie video, record using lights, or do it under water.
Tell us about your recent project Blind Ambition: The Story of Wop May
Blind Ambition brings to life the story of what I think is Edmonton's most inspiring pilot – Wilfred 'Wop' May.
This project started as a very small and conventional documentary with talking heads interspersed with archival photos. As we slowly received more funding support, the project became more ambitious.
Once we secured some AFA funding, we decided to recreate some of the historical moments that didn't have any archival materials. Then we decided to shoot on actual 35mm film. Another grant came in and we decided to film with a 50-piece orchestra in Prague. We pieced it all together in small hops.
In the end it became a 20-minute short documentary with creative elements like cinematic dramatic recreations and comic book art.
What is it like to be an artist in Alberta?
Like all places, there are both positives and negatives to being a documentary filmmaker in Alberta.
On the positive side there is tremendous support from organizations like the AFA, Edmonton Arts Council, Edmonton Heritage Council and the Film and Video Arts Society of Alberta (FAVA) to keep me telling stories. The film community is passionate and always ready to lend a hand.
It is also less expensive to live here and rent facilities than other major cities. Alberta also seems to have an entrepreneurial/risk-taking spirit that often lets me push the barrier a little further.
On the negative side, I'm required to travel long distances to attend industry events and meet with broadcasters.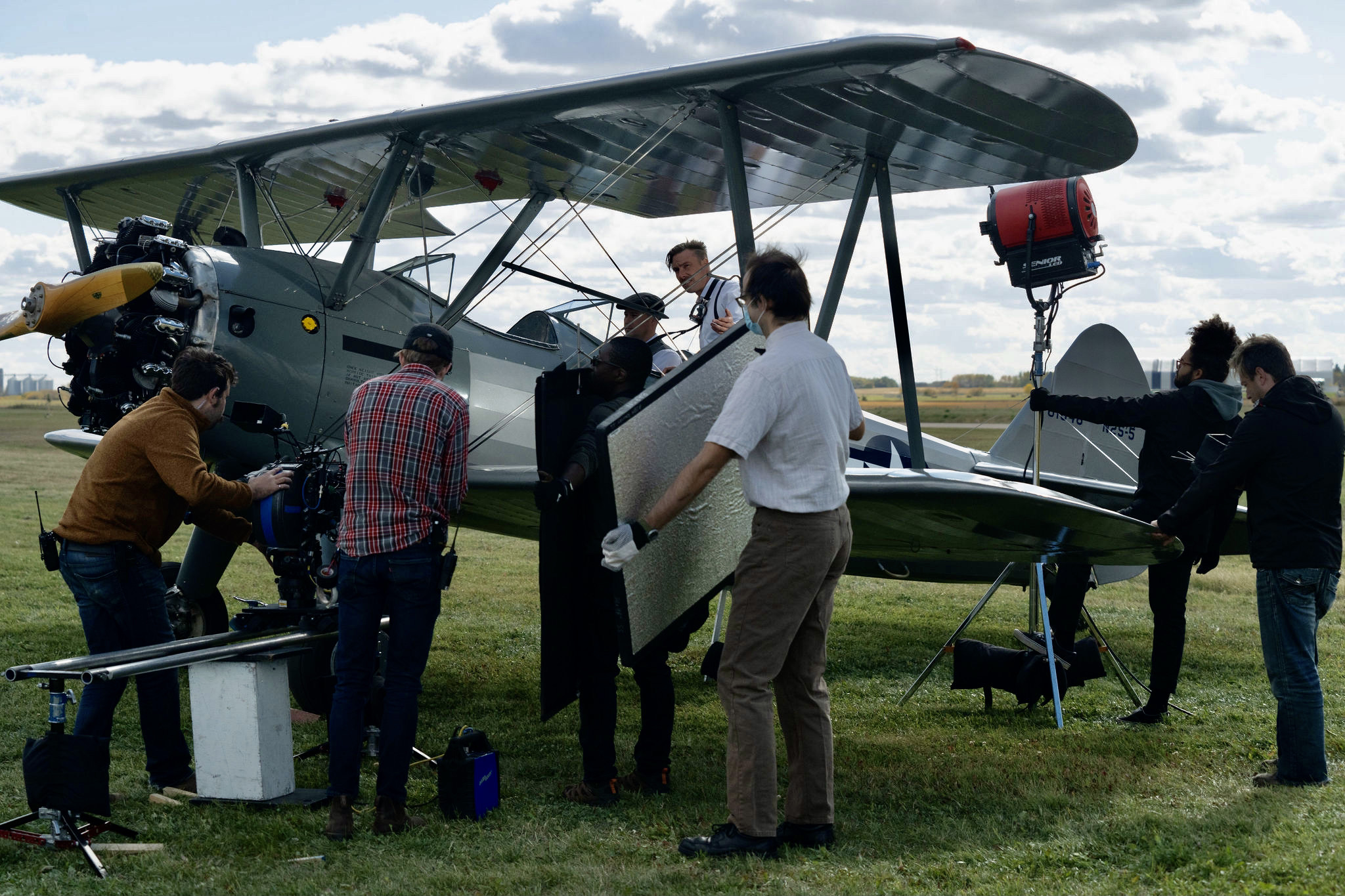 Behind the scenes filming Blind Ambition: The Story of Wop May
It's been a difficult year for artists. What's has your experience been like trying to work during the pandemic?
I went from shooting a food travel series across Canada with my wife, to sitting in my basement in front of a computer. Although financially challenging, it provided me an opportunity to look inwards and start developing new projects.
Due to timing issues, we had no options but to film Blind Ambition during the pandemic. It was challenging to work with a relatively large crew and maintain proper COVID protocols – but we managed to pull it off with no one getting sick. 
What's the most important thing Albertans can do to support local artists in Alberta?
Find out if your elected officials care about supporting artists. Go to local art shows. Hang out at local film festivals. We make cool things here – we should be proud of that.
And please come to the Edmonton International Film Festival to check out amazing Albertan films!
Frederick Kroetsch bio
Frederick has numerous credits under his belt! Here are a few highlights...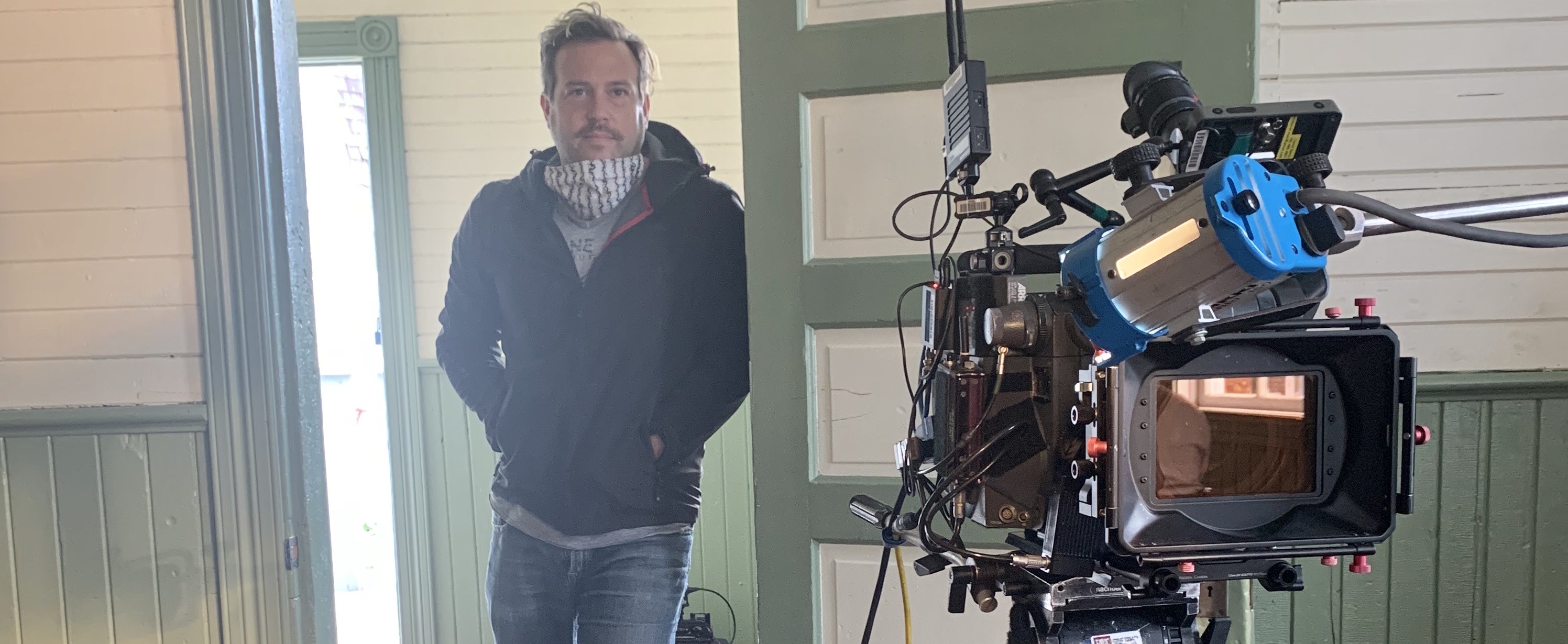 He made Last of the Fur Traders for AMI-tv, which follows the journey of his father returning to the arctic.
He also created the TV-series Queen of the Oil Patch for APTN. Frederick has made dozens of documentaries for organizations such as TELUS Originals, CBC Digital, Telefilm, Bravo, NFB, CTV and Shaw.
He recently produced the feature documentary The Secret Society and is currently directing the TV-series Dr. Savanna: Wild Rose Vet for Cottage Life.
Frederick graduated with a film production degree from Concordia University; was awarded a Top 40 Under 40 Award in his home city of Edmonton; and won a Hot Docs Short Film Pitch. He is an alumnus of The Werner Herzog Rogue Film School, The NSI Business for Producers Program, Whistler Doc Lab, and the TELUS Fellowship Program. 
Frederick is EP and DOP on Wochiigii lo: End of the Peace, which premiered at TIFF 2021.
The film Form and Function from his arts collective "Are we artists or Cops?" is currently on display at the Artists in the Fallow Exhibit at Brighton Block. He is also very excited about receiving his first Canada Council grant for an experimental film tentatively titled Flesh Ballet
---
How will you take part in art and support artists? Share your experiences through social media by tagging the AFA and using the hashtag #TakePartInArt.