To celebrate 25 years of the AFA, we're taking a look back at how we came to be, favourite milestones, and some of the amazing artists we've encountered along the way. 
By Erin McDonald, Manager, Art Collections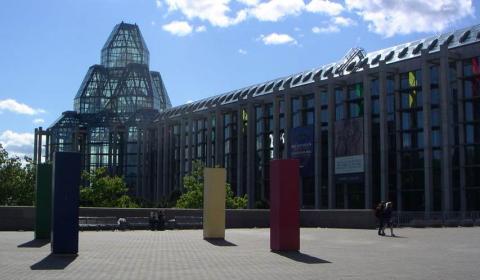 National Gallery of Canada via Wikimedia Commons
For many Canadian visual artists, having works exhibited in public galleries is a significant achievement – an affirmation of their artistic vision, public recognition, and a door to more opportunity. Thus, a solo retrospective exhibition at the National Gallery of Canada (NGC) may well represent the peak of a period of an artist's career. For two Albertan artists, this is certainly true.
Calgary-based Chris Cran and Cold Lake's Alex Janvier each have noteworthy, full-career retrospective shows coming up at the NGC, Canada's premiere public collection of historic and contemporary visual art.
More important than the simple fact that two Alberta artists are being recognized is the fact that they are the first Alberta contemporary artist and the first Alberta aboriginal artist to receive solo retrospective exhibitions in the Gallery's nearly 140 year history. Artworks from the AFA's Art Collection are some of the featured treasures within both shows.
In the national collection that houses significant and notable works by legends including Dali, Rembrandt, Rodin and Canada's own Thomson and Colville, Cran and Janvier take centre stage and shine brightly as two of Alberta's most talented artists.
The exhibition title is as tongue-in-cheek as most of Cran's original artwork; his playful, humorous and inventive takes on still life, portraiture, landscape and abstraction. His work is known for "challenging perception and understanding of major movements such as Pop Art, Op Art, Modernist Abstraction and Photorealism. Cran playfully combines art history with imagery borrowed from popular culture." (via the National Gallery)
Curated collaboratively between the Art Gallery of Alberta and the NGC, the exhibition wowed audiences in Edmonton in the fall of 2015, and then travelled to Ottawa for a May 2016 opening. The retrospective, on display until Labour Day 2016, is the most comprehensive exhibition on Cran ever produced. It spans 40 years and 100 artworks: 4 belonging to the AFA art collection, including the quirky portrait Family from The Self Portrait Series.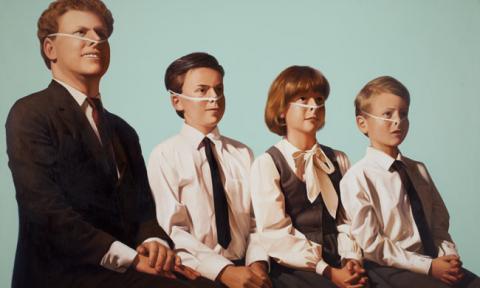 1988.052.001 Chris Cran Family, 1987, oil on canvas, AFA Collection
Cran has continued to explore the very nature of painting itself, through his varied series' of work, incorporating digital technology, abstraction and many layers of meaning. In The Metaphysics of Admiration, Cran incorporates homage to the pixelated pop art of Lichtenstein, the frame from his own Framing Device Paintings, and a perhaps as nod to both his early self-portrait series and his own self-awareness: his own image is reflected in the mirror.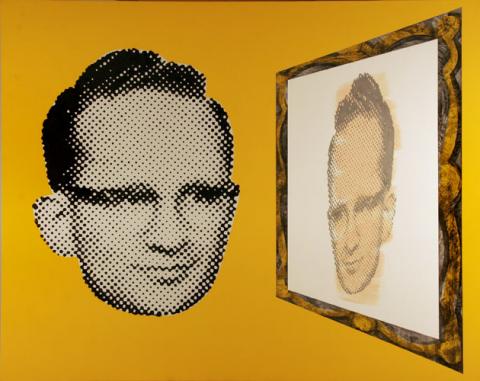 2003.036.001 Chris Cran, The Metaphysics of Admiration, 2002, oil, acrylic on canvas, AFA collection
A founding member of the original "Indian Group of Seven", Alex Janvier is known as one of Alberta's most significant artists. As both a visual artist and advocate, Janvier introduced contemporary aboriginal art to the Canadian art world in the 1970s.
A survivor of the Blue Quill Residential Indian School, Janvier is both prolific and poignant. Janvier created for himself a unique style, featuring clear influences of modernist abstraction merged with the rich cultural and spiritual traditions from his indigenous heritage. Janvier's work is easily identified.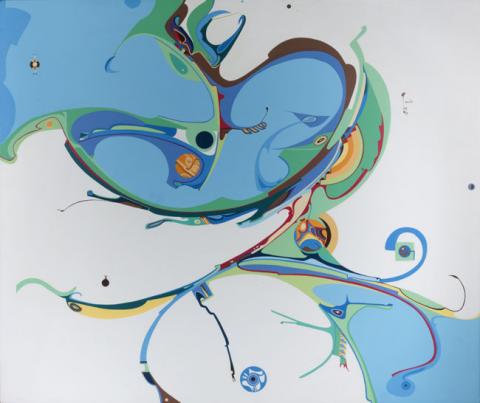 1975.014.001 Alex Janvier The Sky Begins, 1974 acrylic on canvas, AFA Collection
As an artist, Janvier has had a long and very successful career, including his role as an in-demand artist for high-profile public art commissions. From his very first public art commission at the Muttart Conservatory in Edmonton, to his 450m2 masterpiece entitled Morning Star in the dome of the Grand Hall of the Canadian Museum of History, Janvier is treasured for his distinctive curved lines and use of bright, and often symbolic, colour. To his name, Janvier has seven public murals across the country, including Iron Foot Place, a nearly 14m diameter circular mosaic to be set in the floor of the Winter Garden for the new Rogers Place (Edmonton).
Admitted to the Royal Canadian Academy of the Arts in 1992, Janvier is a true pioneer for aboriginal artists in Canada. He paved the way for generations of indigenous artists by breaking down barriers and eschewing stereotypes of what it means to be aboriginal and an abstract painter. Throughout his career, he has made significant contributions to Indigenous visual culture: as an art instructor, a cultural adviser, and as a member of the Indian Group of Seven.
Following three major retrospectives of indigenous Canadian artists, Norval Morrisseau (2006), Daphne Odjig (2009), and Carl Beam (2010), Alex Janvier's work will take centre stage in the National Gallery of Canada in late 2016. The exhibition brings together more than 75 of Janvier's most impressive works from early in his career in the 1960s to present. Celebrating Janvier's unique approach, works on paper, canvas, and linen will show off his range of elegant abstractions.
 A total of nine artworks from the AFA collection holdings are being prepared for transport to Ottawa for the show. These include some of Janvier's most well-executed abstract works, along with one of his most representational works, Apple Factory (1989). Apple Factory is a stark and poignant statement on the effect of residential schools on generations of indigenous children in Canada.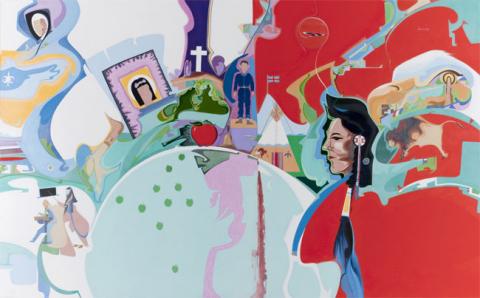 1989.123.001 Alex Janvier Apple Factory, 1989 acrylic on canvas, AFA Collection
The AFA is proud to support many Alberta visual artists by lending our holdings to other institutions; in 2016 we are committed to at least fourteen exhibitions with our partners, including the National Gallery. 
Visit the Collection