The Alberta Foundation for the Arts (AFA) was honoured to select 15 recipients from Alberta's arts community to receive Queen Elizabeth II's Platinum Jubilee Medals. 
While Alberta has no shortage of incredible individuals who have enriched Alberta and its arts sector with their dedication and mastery, the AFA was privileged to recognize 15 outstanding individuals for their contributions.
Two presentation ceremonies were held in Edmonton on January 30 and in Calgary on February 2, where the AFA presented the medals to the recipients.
Recipients recognized during the Calgary ceremony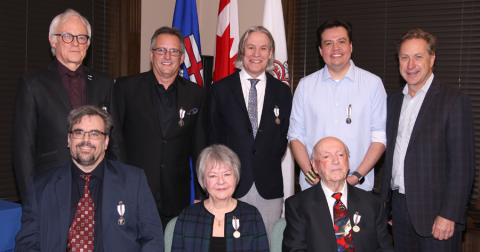 Back row (from left to right): David Chantler, Jean Grand-Maître, Yves Trépanier, Jason Carter, Paul Baay (AFA Acting Chair)
Front row (from left to right): Claude Lapalme, Vicki Adams Willis, Maurice Lorieau (missing: Haysam Kadri)
David Chantler – Calgary 
David Chantler is the Founder and Producing Director of one of Canada's oldest & largest children's theatre companies. With two companies touring, Trickster trains artists and also creates on-line & in-person curriculum-based activities in 75% of Alberta communities, 20% of which are Indigenous.
Jean Grand-Maître – Calgary 
Jean Grand-Maître is widely recognized as among the most successful Canadian choreographers and artistic directors of his generation. He joined Alberta Ballet in 2002 and elevated the profile of the organization globally including collaborations with music icons such as Sir Elton John and K.D.lang.
Yves Trépanier – Calgary 
Yves Trépanier is a leading figure and champion of visual art, volunteering on many boards including the Glenbow Museum, Contemporary Calgary, the inaugural CADA board and collaborating with AU Arts. Yves has used his internationally known commercial gallery to launch many notable local artists.
Jason Carter – Canmore 
Jason Carter is an Indigenous sculptor, painter, illustrator and public artist from the Little Red River Cree Nation.  He grew up in Edmonton and was the only Alberta artist to have his own solo show at the 2010 Vancouver Winter Olympics and has also illustrated 5 children's books.
Claude Lapalme – Red Deer
The tireless efforts of Claude Lapalme over the past 32 years have given Red Deer a fully professional orchestra – the only city of its size in Canada to accomplish this. In addition to his Music Director duties, he has also become a world-renowned orchestrator, and created the Choir Kids program.
Vicki Adams Willis – Calgary 
Vicki Adams Willis is Founder in Residence at Decidedly Jazz Danceworks and has changed the jazz dance art form in Canada. She is a brilliant teacher and choreographer who has developed a generation of dancers and built a sustainable audience. 
Maurice Lorieau – Calgary 
Maurice Lorieau was the founding visionary for Calgary Opera 50 years ago and made it happen. As a singer and also helping others to sing, he always had one approach that has lasted for the past fifty years and that was to "make Opera available to everyone".
Haysam Kadri – Calgary 
Haysam joined The Shakespeare Company in 2012. Under his leadership, it has enjoyed countless nominations, significantly expanded its audience base and created innovative outreach programs. He is a sought after post-secondary Theatre Arts instructor and a national award-winning actor and director.
Recipients recognized during the Edmonton ceremony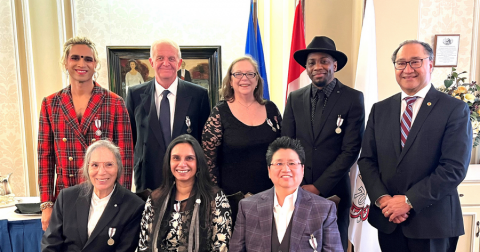 Back row (from left to right): Vivek Shraya, Terry Wickham, Shelley Switzer, Marlon Wilson, Richard Wong (AFA Board member)
Front row (from left to right): Jane Ash Poitras, Natasha Deen and Michelle Wong
Vivek Shraya – Calgary 
Vivek Shraya is a trans artist of colour whose body of work crosses boundaries of music, literature, visual art, theatre, and film. She has been previously nominated for the Polaris Music Prize, is a seven-time Lambda Literary Award finalist, and founder of V.S. Books which supports BIPOC writers.
Terry Wickham – Edmonton 
Under Terry's leadership, the Edmonton Folk Music Festival has expanded in size and scope – showcasing Alberta artists, attracting national and international artists and many genres of folk music. Terry produces a world-class music festival every summer and embraces a vision of inclusivity.
Shelley Switzer – Edmonton 
With decades of leadership experience as a Festival and Events Producer, Shelley expanded the Edmonton International Street Performers Festival into a large scale, inclusive and accessible community festival. She currently teaches at NAIT and is a sought-after consultant for festivals.
Marlon Wilson – Edmonton 
Marlon Wilson is a hip-hop artist and central member of Edmonton and Alberta's hip-hop scene. He is a founding member of the award-winning group Politic Live and performs as solo artist Arlo Maverick.  He has also mentored many of Edmonton and Calgary's emerging hip-hop and R&B artists.
Dr. Jane Ash Poitras – Edmonton
Born in Fort Chipewyan, Alberta, Dr. Poitras' work is truly original and spans a range of topics and perspectives through art. She is an exciting storyteller and works in a variety of media including painting and mixed-media collages that have been featured around the world gaining numerous acclaims.
Natasha Deen – Edmonton 
Guyanese Canadian author Natasha Deen, has published over thirty works for kids, teens, and adults in a variety of genres and readerships. A multiple award-winner, Natasha uses her life experiences and humour to connect with students in schools and youth camps on the universal moments of growing up.  
Michelle Wong – Calgary
Michelle Wong's production credits span television to movies to documentaries, performing arts specials and features. She has served on boards with Quick Draw Animation, The Fairy Tales Society, the Calgary Society of Independent Filmmakers and the Alberta Motion Pictures Industries Association.
About the QEII Platinum Jubilee Medal
The first commemorative medals in Alberta were awarded in 2005, marking Alberta's 100th anniversary of its entry into Confederation. The history of the medals reaches as far back as 1887 with the Golden Jubilee of Queen Victoria.
Through the Queen Elizabeth II Platinum Jubilee Recognition Act, the Government of Alberta created Queen Elizabeth II's Platinum Jubilee Medal (Alberta). The medal is awarded to 7,000 Albertans.