To celebrate 25 years of the AFA, we're taking a look back at how we came to be, favourite milestones, and some of the amazing artists we've encountered along the way. 
By Allison Pfeifer, Industry Research and Policy Consultant with the Alberta Media Fund (and former AFA Arts Development Consultant)
As we prepare to celebrate the 150th anniversary of Canada's confederation in 2017, we recognize how our diverse cultural heritage has bound us together as communities and joined us together as a country. Our culture takes many forms, but it is always a sensory experience filled with sounds, and sights, tastes and smells, and the touch of our common humanity.
And where there is a cultural celebration, artists that have been supported by the Alberta Foundation for the Arts are there.
In 2014, along with our artists from sister provinces and territories, several Alberta artists spent the summer in Charlottetown, Prince Edward Island to celebrate the 150th anniversary of the Fathers of Confederation. From July 14 to 20, Alberta showcased some of our best and brightest talent.
Here are ten highlights from Alberta Week at PEI 2014:
1)      Cheering on, as three-time World Champion Hoop Dancer Dallas Arcand, gets a standing ovation for his powerful and moving performance.
2)      Enjoying award-winning Alberta author Marty Chan's stories and appreciating his creative answers as he takes part in an interactive distance learning quiz with Royal Tyrrell Museum.
3)      Watching in astonishment as Sheldon Casavant turns a $5 bill into a $20 bill in his street magic.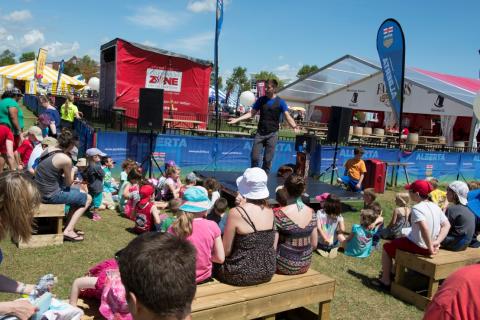 Photo of Sheldon Casavant, ©2014 
4)      Toe-tapping to the rhythmic music of Hot Club Edmonton.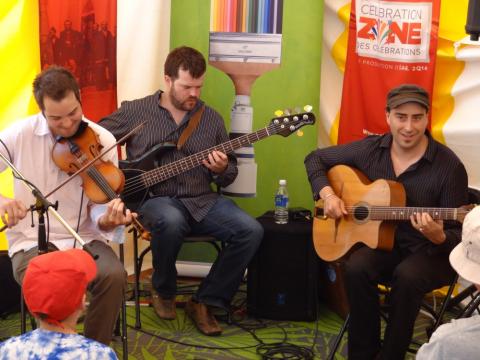 Photo of Hot Club Edmonton, ©2014  Jim Takenaka
5)      Hearing awesome music all throughout Alberta week and feeling pumped up as past AFA grant recipients and award winning musicians, including Indigenous artists Asani, blues artist Kat Danser, folk musician John Wort Hannam, opera singer Jacques Arsenault, and folk musician Maria Dunn perform.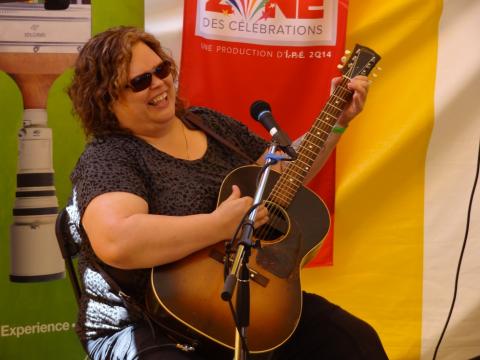 Photo of Kat Danser, ©2014  Jim Takenaka
6)      Witnessing the competitive spirit of families as they battle it out in the calf roping competition for Alberta prizes such as Alberta Rangeland's Bison Bites and Alberta Quick Cooking Barley.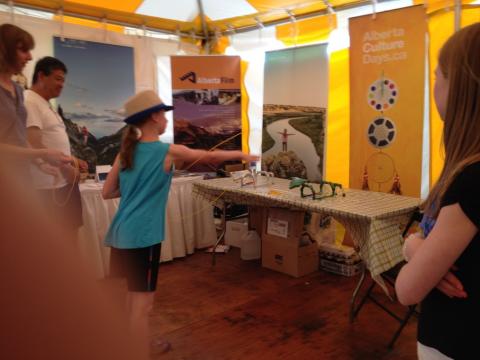 Photo of calf roping, ©2014  Lois Nickerson
7)      Experiencing the incredible creativity of visitors designing their own Ukrainian eggs and dream catchers.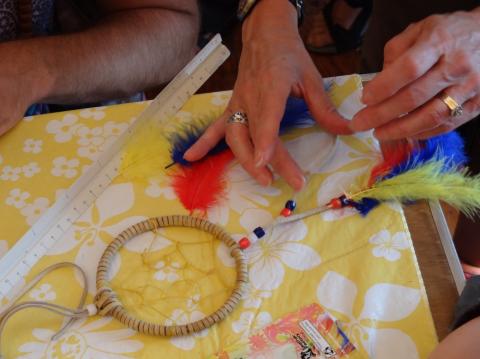 Photo of dream catcher, ©2014  Jim Takenaka
8)      Seeing the amazement of children as they look at fossils and learn about Dromaeosaurus, Pachyrhinosaurus, Tyrannosaurus Rex and Albertosaurus from the Royal Tyrrell Museum.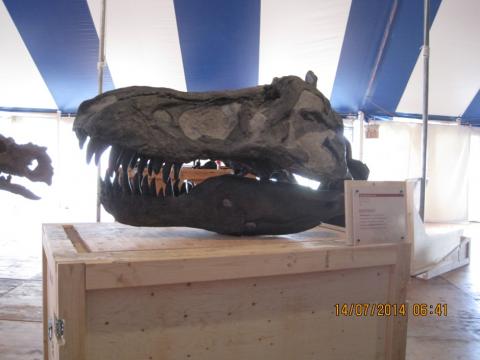 Photo of Tyrannosaurus Rex skull "Black Beauty", ©2014 
9)      Laughing so hard as Atomic Improv is being moved around by two audience members during an improv skit.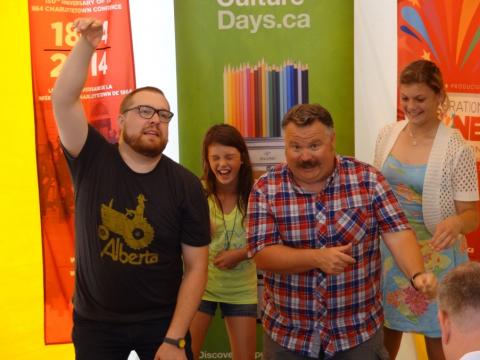 Photo of Atomic Improv, ©2014  Jim Takenaka
10)   Dancing enthusiastically to previous AFA grant recipient and country recording artist, Bobby Wills, as he opens up for Paul Brandt.
During Alberta Week, those that stopped by the celebration zone also got to test their skills on Alberta history. Did you know that?
The Royal Tyrrell Museum, located in Drumheller, is home to more than 130,000 fossils.
The Wetaskiwin-based Reynolds-Alberta Museum, which interprets technological change in transportation, aviation, agriculture and industry, holds the second-largest collection of aircraft in Canada.
The Frank Slide, Canada's deadliest rockslide, lasted only 90 seconds.
CBC's longest running family drama, Heartland, is filmed in High River, Alberta. Other television series filmed in Alberta include Hell on Wheels and Fargo.
Famous director Christopher Nolan has filmed two blockbuster films, Inception and Interstellar in Alberta.
Finally, regional foods and award-winning wines, spirits and ales from PEI and other parts of Canada were showcased. Delicious and nutritious Alberta barley was offered at Fathers Pub & Oyster Bar, the go to restaurant on the Celebration Site. People that sampled these tasty treats definitely agreed that Alberta food products are among the highest quality and tastiest around the world.
Needless to say, the organizers of PEI 2014 were truly impressed at the exceptional talent, variety and diversity of what Alberta has to offer.  
As we head into Canada's sesquicentennial next year in 2017, Alberta culture will be there to join in the celebration. How will you celebrate Canada 150 and be a part of history?