Group of Seven.
Three words that thrill Canadian art lovers everywhere. And while much of the work produced by the Group of Seven focused on eastern Canada, did you know there was a strong connection between Alberta and members of the Group of Seven?
This connection is explored in an exhibition now on view at Government House in Edmonton. Aptly titled Alberta and the Group of Seven, it was developed by independent curator and writer Mary-Beth Laviolette in partnership with Gail Lint, Art Collections Consultant with the Arts Branch.  
If this exhibition sounds familiar, a version of it, curated by Laviolette, travelled around Alberta from 2016 through 2018. The AFA Art Collection team installed the exhibition in Government House, made up of work from the Government House art collection, the collection of the Government of Alberta and the Alberta Foundation for the Arts art collection as part of our exhibition loan program. Click the arrows above to see a short slideshow of images of select artworks in the exhibition. 
Click on an artist's name to see their work in the AFA art collection.*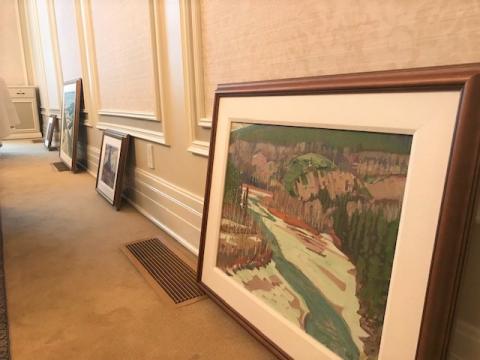 Artwork ready to be installed at Government House. Far right: Illingworth Kerr, "Forest Reserve, Spring". 1973. Oil on canvas. Collection of the Alberta Foundation for the Arts. 
I had an opportunity to ask Mary-Beth Laviolette a few questions about this exhibition and the connection between Alberta and the Group of Seven.
AFA: What is the connection between Alberta and the Group of Seven?
MB: A number of early Alberta artists like H.G. Glyde and Catharine and Peter Whyte sketched and painted alongside members of the Group such as A.Y. Jackson and J.E.H. MacDonald. Jackson, for instance, did not drive, so artists like Glyde and members of the Lethbridge Sketch Club drove him to different sites to sketch or paint outdoors. Banff's Peter and Catharine Whyte knew MacDonald and Lawren Harris from their outdoor excursions in the Rockies.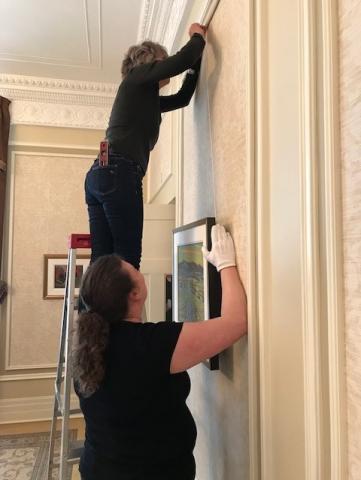 AFA Art Collections staff, Gail Lint and Jackie Flaata, install an artwork in Government House
AFA: Why do you think these artworks still have so much resonance today?
MB: First of all, they are memorable works of art. I mean, Euphemia McNaught's oil of Monkman Creek simply glows, while Jackson's small 1935 oil titled Foothills, Alberta captures so much of the distinctive character of the coulees. There are a lot of striking artworks from this period that are not only landscapes but also depictions of small-town Alberta and especially their grain elevators. Most of those [the grain elevators] are now gone and were not admired as artistic subjects at the time. Annora Brown of Fort Macleod was even advised in her own town there was nothing worthwhile to paint, and she should go to Europe where they had windmills, such as France! I guess there was a feeling that art happened somewhere else.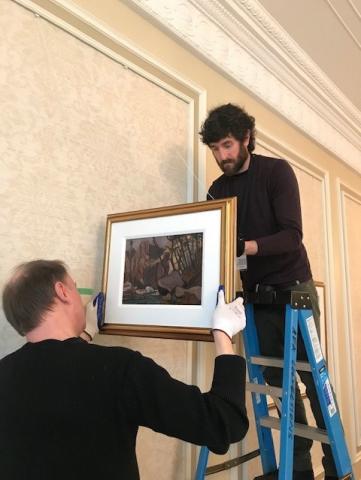 AFA Art Collections staff, Neil Lazaruk (left) and Duncan Johnson (right) install on Government House H.G. Glyde's "Stream Under Grotto Mountain, Near Canmore". 1948. Oil on board. Collection of the Alberta Foundation for the Arts.
AFA: What do you want people to take away from this exhibition?
MB: There is such a thing called 'Alberta art', and it has a very fine legacy that connects into Canadian art. That may sound like an obvious thing to say, but it needs to be said.
AFA: How do these artworks fit into the story of Alberta art?
MB: They all do. For example,  A.Y. Jackson's 1943 painting of the newly constructed and remarkable Peace River Bridge was done at a time when the Alaska Highway was being built for reasons connected to the Second World War. H.G. Glyde, then of Calgary, accompanied him as an artist on this trip north.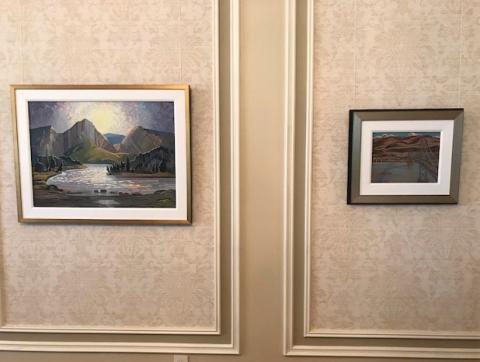 Installed in Government House, Left: Euphemia McNaught's "Monkman Creek". 1985. Oil on board. Collection of the Alberta Foundation for the Arts;  Right: A.Y. Jackson's "Peace River Bridge". 1943. Oil on panel. Collection of Government House.
AFA: Do you have a favourite artwork or artist in the exhibition?
MB: I have a lot of admiration for all of the early artists no matter where they were based, like Euphemia McNaught and Annora Brown. It's good to know that next year Brown will be one of the artists featured in a national touring exhibition being organized by the McMichael Collection of Art in Kleinburg, Ontario in connection with the Group of Seven's centenary. Everyone will be asking who is Annora Brown and where is Fort Macleod?
Interested in seeing these artworks and more in Government House? Free, guided tours take place on Sundays and holiday Mondays.
Mary-Beth Laviolette is an independent art writer and curator based in Canmore, Alberta. She specializes in Albertan and western Canadian art.
*Note: Two artworks mentioned in this article are not part of the AFA art collection. A.Y. Jackson's Peace River Bridge and Foothills, Alberta are in the art collection of Government House.
Written by: Kimberly Van Nieuvenhuyse, Writer/Social Media Officer
AFA Virtual Museum