Alberta Spotlight: August 20 Concert
Alberta Music, the National Music Centre, CKUA and Stagehand are partnering, with support from the Government of Alberta, to deliver Alberta Spotlight, a weekly online concert series featuring Alberta musicians. The funding will go directly to Alberta artists who will be performing.
Concerts will be streamed every week on Thursday at 4:30 p.m. on the CKUA radio network.
Artists performing on August 20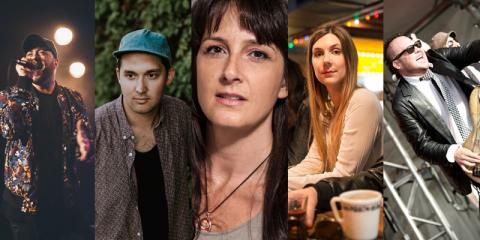 Transit22
Transit22 is an Independent Music Award winner, a Western Canadian Music Award nominated rapper, a Calgary poet laureate finalist and a winner of a Lieutenant Governor of Alberta Emerging Artist Award.
Kyle Church
Kyle's music is honest, reflective and conversational. His latest release "Slow Down" came in spring of 2019 and was followed by his first tour of Western Canada. Since that time, Slow Down was named Folk Album of the Year by GMA Canada.
Emily Triggs  
Following Emily's widely accepted release 'When Guinevere Went Under', Triggs is busting down walls that confine an artist to expectations and genres with her soon to be released album 'Middletown'. Middletown captures the undeniably authentic style of songwriting and arrangement that reflects the world of music Emily grew up in. A prolific songwriter with a passion for storytelling, her songs showcase her honest, pure vocals. While sometimes likened to Patty Griffin and Michelle Shocked, Emily has her own brand of folk/roots filled with a lifetime of music and influences.
The release of When Guinevere Went Under received radio play across the country and into the United States. Show highlights Included CBC, Calgary Folk Music Festival - Festival Hall & Block Heater, South Country Fair, and Wide Cut Weekend. The video for the single 'Home' was nominated for Alberta Film and Television Awards - Best Music Video 2017.
In true fashion, Middletown will not let listeners down as Emily continues to push boundaries of the folk/roots genre with influences spanning from Texas blues to her years in French Canada. The youngest of five growing up in a mix of English and French culture, it was in living room jam sessions with local and visiting musicians that Emily learned the history and art of lyrical composition and performance. Emily shares stories through songs with an endearing simplicity that belies their emotional depth.
Produced by Lorrie Matheson and featuring performances by Chris Byrne, Paul Rigby and Chris Dadge, Middletown is the lamenting heart of roots with the raucous soul of rock that's never too far from the earthy fields of country.
The year ahead involves the release of singles, videos, and tour dates for Alberta, British Columbia, Montreal & area, and Halifax.
King of Foxes
"King of Foxes's sound is highly polished, using colourful lyrics and richly textured musical arrangements. Fronted by songwriter Olivia Street, the band's creativity both honours and reinvigorates the indie-rock genre." - The Gateway (Feb. 2019)
King of Foxes offers up something of value: a musical divining rod that pulls the listener to an inner river that is at once both familiar and uncanny. Delivered in a voice equal parts fierce and fragile, frontwoman Olivia Street's lyrics are poetic and evocative, deftly interwoven with seeing-eye guitar hooks and a cogent understanding of songcraft.
Jory Kinjo
A love for all roots music has taken Jory Kinjo around the world in the last 20 years of his musical career. He has performed on bills with a range of artists from Ziggy Marley to ZZ Top. Kinjo was raised in R&B, Blues & Soul music, but his career has since touched on Jazz, Reggae, Ska and even Country music.
Kinjo joined Calgary soul band Mocking Shadows in 1999 and still plays with the band to this day. With the Shadows, Kinjo has performed on multiple tours with B.B. King, shows with Buddy Guy, ZZ Top and dozens of other legendary artists.
In 2008, Kinjo was asked to play bass on a European tour with Montreal's third wave ska band, the Planet Smashers. The Smashers were performing at various punk/ska venues with a highlight performance with Bad Religion at Belgium's Groezrock Festival. This experience sparked a new love for Ska & Reggae music.
Following his newfound inspiration, Kinjo began a solo career and took his music in a new direction in 2009. His venture into the Ska/Reggae world has resulted in shows and tours with such bands as Fishbone, UB40, the English Beat and the Wailers.
In 2010, Jory began performing in Japan with his younger brother, Kaley Kinjo. The Kinjo Brothers perform in both Japanese and English and still tour Japan yearly at various festivals and venues.
From 2014 - 2017, Kinjo moved to New York City part time and worked with such Ska/Rocksteady bands as the Slackers and the Rocksteady 7. Kinjo performed and recorded in NYC, often forced to write and practice in the subway in the late hours to escape the noise restrictions of his East Village apartment.
Kinjo's solo show is a varied and sincere one. His songs and multiple styles reflect a storied and unique past in the life of a Canadian musician with a career spanning over two decades.
The concert is streamed on August 20, but videos from all performances are available to view on CKUA's website. 
Stream on CKUA