Alberta Spotlight: August 13 concert
Alberta Music, the National Music Centre, CKUA and Stagehand are partnering, with support from the Government of Alberta, to deliver Alberta Spotlight, a weekly online concert series featuring Alberta musicians. The funding will go directly to Alberta artists who will be performing.
Concerts will be streamed every week on Thursday at 4:30 p.m. on the CKUA radio network.
Artists performing on August 13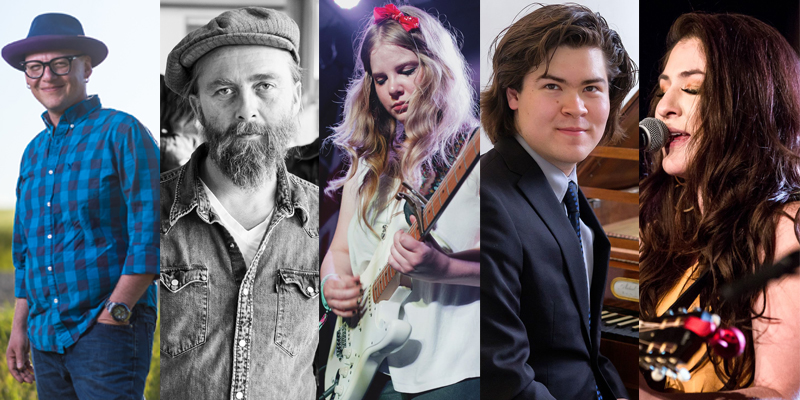 Anders Muskens
Anders Muskens (b. 1993) is a Canadian professional early keyboard specialist and ensemble director. He began piano studies at the age of 4 in Edmonton, Alberta. completed an Associate Diploma in modern piano from the Royal Conservatory of Music, Toronto under the tutelage of Dr. Irina Konovalov. He completed a Masters in historical performance on forte-piano and harpsichord at the Royal Conservatoire of The Hague under Dr. Bart van Oort and Petra Somlai, with Fabio Bonizzoni and Patrick Ayrton for harpsichord. He has received recognition as an international artist and has performed in Europe and North America, and received numerous awards and scholarships. In February 2020, he directed the orchestra's first opera production: a revival of Johann Christian Bach's 1767 opera seria, Carattaco, and he will direct the company's next opera production: a revival of Gian Francesco de Majo's serenata, La gara delle grazie at the Grachtenfestival in Amsterdam. He has released several singles and albums, which are available on Spotify and other streaming platforms.
Samantha Savage Smith
Smith has been an active performer in the local & international market for the last decade. Samantha has released two full length albums; Tough Cookie (2011) & Fine Lines (2015) and is currently working the studio finishing up her soon to be third long player. Over the past decade, Sam has toured extensively across Canada, Iceland, UK/EU and made her U.S debut for the release of Fine Lines at the 2015 SXSW. Smith has put together her new band lineup, which made their debut as the five piece at the 2018 Sled Island festival. Which was well received by fans, and media.
Ayla Brook & The Sound Men
Ayla Brook (pronounced Ey–Lah) makes music as raw and vast as the Canadian prairies and as broad and deep as the Pacific Ocean. From his remote conception in BC's Refuge Cove, to his upbringing in Lily Plain, Saskatchewan, to forming The Sound Men in the prairie capital city of Edmonton, Ayla has never wavered from his original vision of honest roots rock. Produced by Terra Lightfoot and mixed by Jon Auer of The Posies and Big Star fame. Desolation Sounds is a collection of songs and stories about friends and family. With levity, grit and grief we're pulled into human connections stronger than the ding of a phone notification. They burst with rock and soul and the western charm that has become the band's trademark sound.
Michela Sheedy 
If you are looking for soulful, sultry, country music; look no further. Okotoks born and raised, Michela Sheedy represents a steely edge to the Canadian country music scene. Michela has graced some of the most esteemed stages in Alberta including performances at the legendary Ranchman's, Cowboy's Nightclub, Big Valley Jamboree, Country Thunder in Calgary and Florida as well as the Coca-Cola Stage and Nashville North Stage at the Calgary Stampede. Sheedy was titled Notable Life's Breakout Canadian Musician of the Year in 2018, winner of 96.5 CKFM Country Star Search, grand prize winner of the Global Country Star Search and two-time nominee of ACMA Female Artist of the Year. Michela's powerful showmanship and distinguishable vocals will be cutting the trail for her as she continues the creation of her new single scheduled to release summer 2020; a project that is highly anticipated, and certain to make a lasting impression on her quickly growing audiences.
Esteban Herrera 
Esteban Herrera's music is an original approach to contemporary world jazz, exploring odd meters and complex rhythms, letting the improvisation to lead each live session and recordings. Esteban Herrera has released 5 albums so far: ESTRELLA (2013), ORIGEN (2014), FANTASMA (2015), TRANSPARENTE (2017) and HOGAR (2018), all available on Spotify and iTunes (Esteban Herrera Trio). Esteban Herrera is the leader of his project. He composes, arranges, plays the piano, produces and directs each and every album.
The concert is streamed on August 13, but videos from all performances are available to view on CKUA's website. 
Learn more about Alberta Showcase online concert series. 
Stream on CKUA