Culture Track is a national survey of cultural consumers' attitudes, motivators, and barriers to participation. 2018 is the first year for the Canadian study. 
Business / Arts, a Canadian association of business members who support the arts, led the research in collaboration with LaPlaca Cohen.
A variety of funders across Canada supported the study and the questionnaire was edited with input from stakeholders representing Canadian cultural organizations, business, and government.
6,444 Cultural consumers from across Canada participated in a bilingual online survey
1,004 respondents were from Alberta
All respondents were 18 years or older, and were screened into the survey based on two criteria:
their participation in at least one cultural activity in the past twelve months
and their definition of that activity as a "cultural" activity.
Findings
Cultural consumers were most likely to participate in the following arts activities at least once a year:
Music festival: 56%
Art of Design Museum/Gallery: 54%
Musical : 51%
Public/Street Art: 51%
Non-musical Play: 50%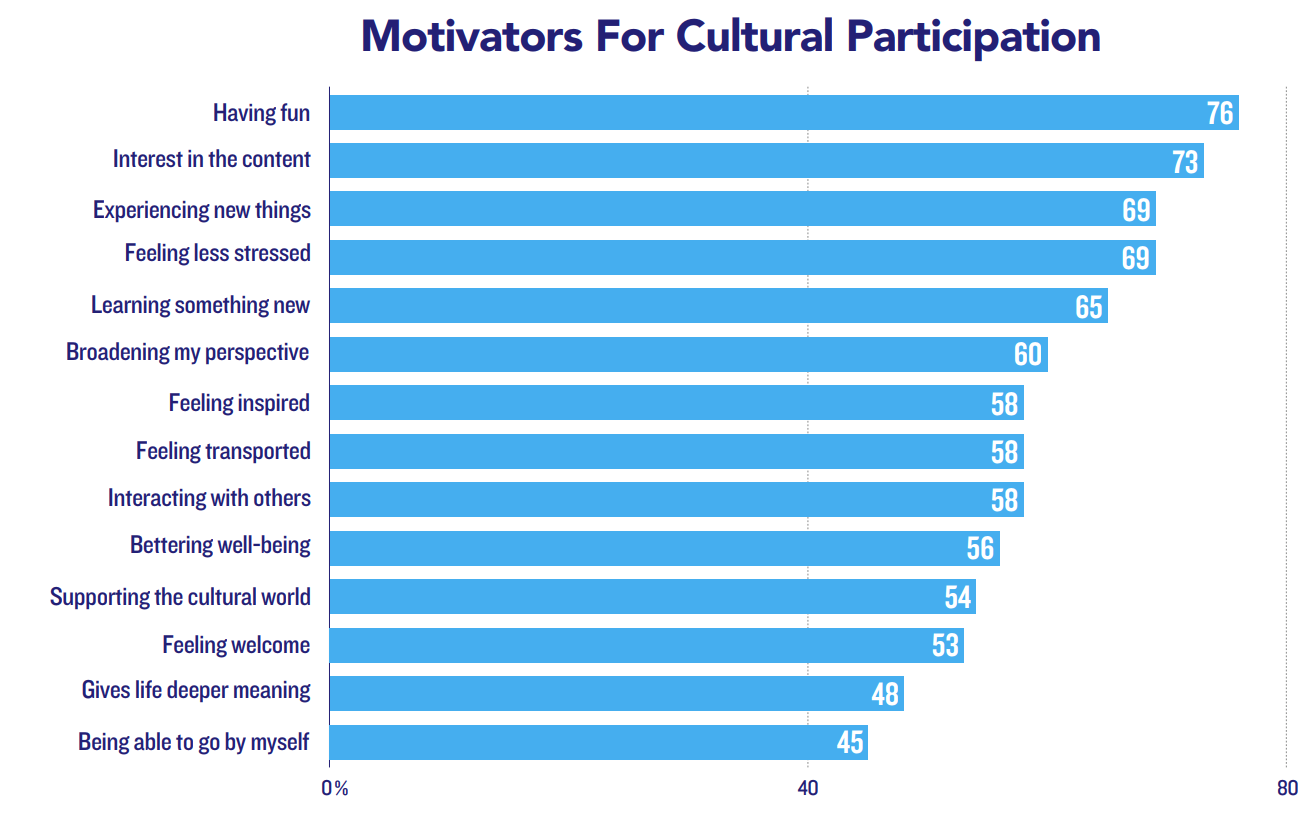 Conclusions
Key conclusions of the report include:
Canadians are cultural omnivores, and their relationship with culture is purpose-driven. Specifically, they value experiences that ultimately nurture belonging, empathy, and perspective.
While fun, novelty and escape are desired attributes of a cultural experience, relevance is a precondition for success. Audiences will not consider participating if they do not feel connected to the content or experience.
Audiences have limited experience with tech in cultural settings, and are divided on whether it should even have a role. The opportunity ahead is to reframe digital as a tool to foster deeper connection, rather than a solution unto itself.
A fundamental shift has occurred in what individuals seek in committing to organizations: they now value empathy and reciprocity. This new relationship-based approach is replacing transactional models.
Canadians are philanthropically active, but culture is rarely their top priority. To generate increased support, a greater emphasis must be placed on culture's distinctive social impact, as well as the need for non-governmental funding.
Interested in other research news? Browse our research category on the AFA News feed. 
Read the report