To celebrate 25 years of the AFA, we're taking a look back at how we came to be, favourite milestones, and some of the amazing artists we've encountered along the way. 
By Erin McDonald, Manager, Art Collection
On a sunny day in July 2015, a client contacted Erin McDonald, manager of the AFA Art Collection, and advised that she knew of a significant collection of ceramic works by Albertan artists. The collection, located in Red Deer, belonged to her parents who were looking to find a suitable repository for a large number of mid-century ceramics. As 2015 was marked as Canada's Year of Craft, the acquisition of works in fine craft media was a priority for the AFA.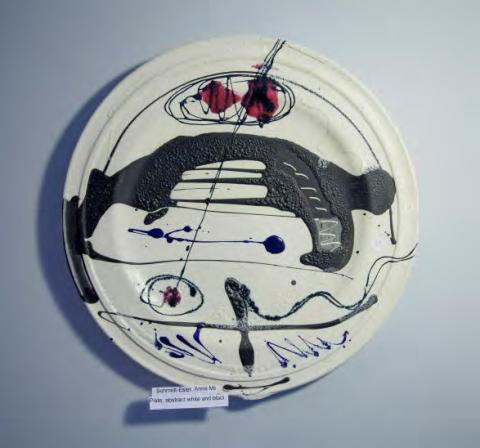 Annemarie Schmid Esler, PLATE, ABSTRACT BLACK AND WHITE, n.d. ceramic
Fast forward a few weeks, and Erin and summer intern Michael Woolley headed to Red Deer to visit the home of Joan and Tom Chapman. For those familiar with galleries in Alberta, one might remember Chapman Galleries, the central-Alberta gallery which became an important outpost for original works of art by major Albertan artists. Chapman Galleries, operated by Joan Chapman, opened in 1974 in a residential location in Red Deer, Alberta, where it operated until 1984. Due to financial challenges, Chapman Galleries closed in 1984. In 1988, Joan opened Four Corners Gallery and Framing, which represented many of the same artists Chapman Galleries had. In 1998, Joan closed the business, retiring permanently in 2000.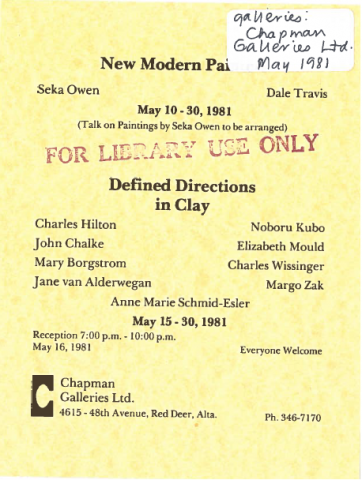 From the Resource Centre files, an original invitation to a Chapman Galleries exhibition
For a decade, Chapman Galleries was at the heart of the resurgence of studio and design potteries which combined distinctly modernist approaches to art, with traditional forms and techniques. Alberta was unique at this time, as we experienced an influx of talented artists coming to explore the burgeoning studio pottery world exploding here – at this time such talent as Noboru Kubo, John Chalke, Jane van Alderwegen, Harlan House, and Charles Wissinger were all producing some of their best work.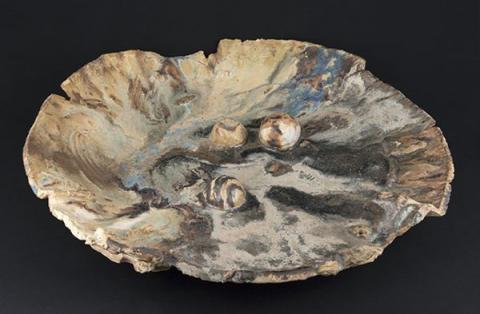 John Chalke, BASECAMP, n.d., ceramic
The Alberta Foundation for the Arts was at the centre of this movement, releasing a series of publications which accompanied travelling exhibitions on the evolution of the mid-century ceramics movement in Alberta. Exhibitions travelled throughout Alberta, with stops in places like Red Deer, Lethbridge, Edmonton, Calgary and Grande Prairie. In Studio Ceramics in Alberta 1947-1952 (1982), early works and artists are identified as part of the nascent clay tradition that began post-Wold War II, featuring an interview with Luke Lindoe, and early works by Greg Arnold, Walter Drohan, and Lindoe himself. Studio Ceramics in Alberta II, 1953-1963 (1982), explored the emergence of the ceramics department at the Southern Alberta Institute of Technology & Art (now SAIT and ACAD), and the emergence of the Edmonton Potters' Guild in 1953. Artists featured included Sibyl Laubental, Vivian Lindoe, and Katie Ohe, showing the strength of female artists in the medium. Finally, in 1984, Alberta Clay Comes of Age: Studio Ceramics in Alberta III, 1964-1984 was released, the last in the series. The exhibition and catalogue featured emerging artists who would ultimately become synonymous with the ceramics movement in Alberta, such as Ed Drahanchuk, Annemarie Schmid Esler, and Tony Bloom. Unfortunately, this resurgence waned as the economic realities of the 1980s in Alberta continued. The third catalogue and exhibition marked the end of an era.
Thus, when Chapman Galleries finally closed its doors for good, the Joan and Tom Chapman retained a number of their favourite artworks in their own personal collection. Fast forward to 2015, as the Chapman's were seeking to downsize their personal collection, they sought a partner institution to acquire their collection. In particular, the Chapman's sought a public collection that would ensure that the ceramic arts of Alberta would be shared broadly. It was during a studio visit to the Chapman home in August 2015 that we began to discover how significant the works in this collection are.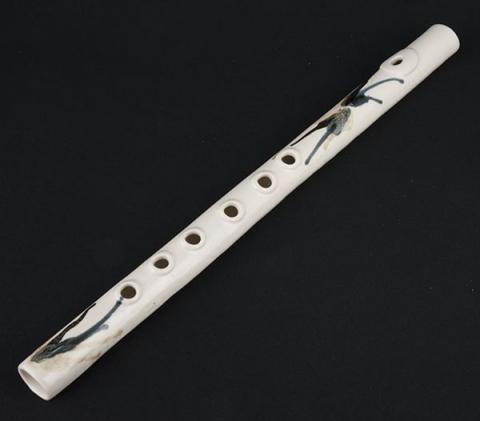 Tony Bloom, FLUTE, ca. 1970-2, ceramic, AFA Collection
Significant pieces by Albertans were found in the holdings, many created during periods previously unrepresented in the AFA collection: this was truly a gem of mid- to late-century modern Alberta ceramics. Tony Bloom's FLUTE was an incredibly exciting find that was offered by the Chapman's after the studio visit. Found in a drawer, FLUTE was one of Bloom's earliest explorations of ceramics. Having later examples of Tony's work in the collection, FLUTE is an incredible addition to the holdings for the purpose of curatorial research and documenting an artist's career.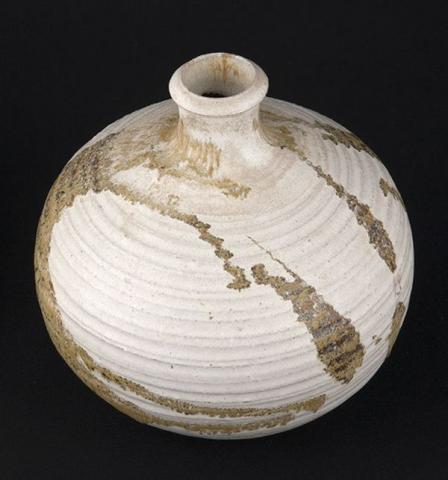 Toru Hasegawa, NARROW NECK VASE, 1968, ceramic, AFA Collection
Works such as Toru Hasegawa's vase are representative of unique stylistic changes in an artists' practice over time. In this example, the previous works by the same artist are from the same period, but are in the medium of stoneware, and represent his exploration of more sculptural forms. This functional vase shows Hasegawa's delicate application of colour, mimicking brush strokes of traditional Japanese-style painting. Further, this work has a very finely crafted neck and body for such a utilitarian object, highlighting his formal training from Kyoto Sakuge University before he moved to Hinton, Alberta in 1967 to study in the studio of Frank Kiyooka.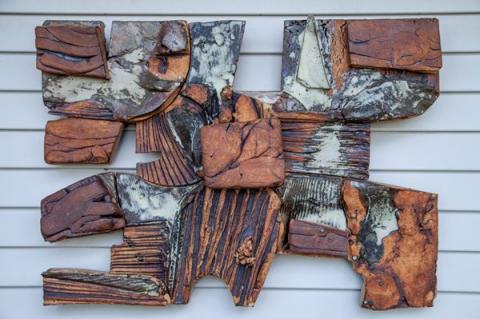 A rare large-scale outdoor mural, by Harlan House, n.d.
In December 2015, the AFA Board approved a motion to accept the first group of works from the Chapman's: in total, the acquisition contained 33 artworks, including 23 ceramics added to the AFA collection holdings. These works tell an incredible story of the evolution of studio ceramics in Alberta, the significance of one small central gallery, and the connection with the AFA art collection four decades later. The AFA collection relies on generous donors, like Joan and Tom Chapman, to provide historic and contemporary artwork that can significantly increases the value of the art collection as a legacy for the people of Alberta. 
Visit the Collection