Applications Now Open | Art Acquisitions by Application
Deadline:

Apr 1, 2020 - 11:45 pm
The Alberta Foundation for the Arts (AFA) invites eligible Alberta artists to submit artworks for the Art Acquisition by Application program.
Accepted works become part of the provincial part collection and appear in AFA programs, on the AFA website and throughout the province in schools, libraries, post-secondary institutions, government buildings and community organizations. 
Guide, eligibility requirements and application instructions at: https://www.affta.ab.ca/funding/find-funding/art-acquisitions-application.
Application deadline is April 1, 2020.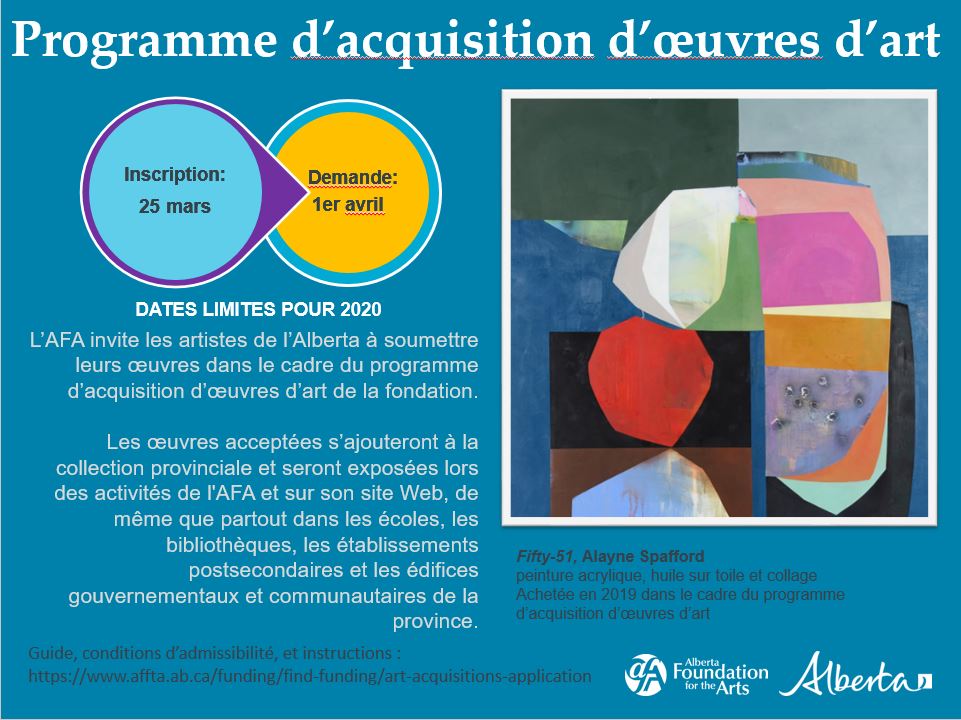 Please note: the AFA accepts applications only through the Grant Administration Tracking and Evaluation (GATE) online application system. First-time applicants will require a GATE username and password. Email registrationafa@gov.ab.ca to obtain your GATE login information at least five business days prior to the application deadline.
Please include:
your legal name
the funding opportunity to which you are applying
your email address
Your GATE user name and password will be sent to the email address provided.