Alberta Spotlight: September 3 Concert
Alberta Music, the National Music Centre, CKUA and Stagehand are partnering, with support from the Government of Alberta, to deliver Alberta Spotlight, a weekly online concert series featuring Alberta musicians. The funding will go directly to Alberta artists who will be performing.
Concerts will be streamed every week on Thursday at 4:30 p.m. on the CKUA radio network.
Artists performing on September 3
T. Buckley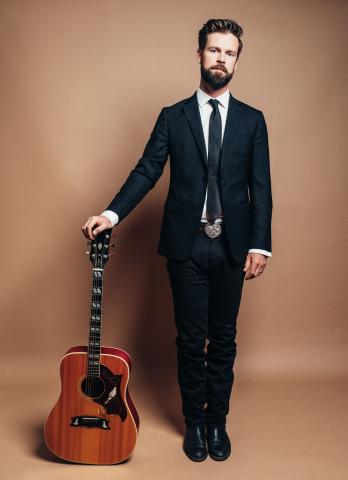 T. Buckley's songs blew across the prairies like a Nor'easter, hanging on to their creator as he stormed into the Calgary scene. With his family's Atlantic roots anchoring his country sound, he produced two albums with renowned Calgary group The T. Buckley Trio.
Buckley could have kept his tunes on the straight country roads between Red Deer and Nanton, Lethbridge and Fort MacLeod. Instead he veered off course, landing in the Banff Centre for the Arts for its inaugural singer-songwriter residency. Recording engineer Howard Bilerman awaited the new compositions, an unnerving prospect for Buckley. But the in-studio chemistry was undeniable, and soon Buckley found himself on a new stylistic route.
Miles We Put Behind is the result of that collaboration, a collection of songs interrogating what it means to be a husband, father, and keen observer of the world around him. His new sound represents his personal transformations, revealing a more vulnerable self on songs like "Least a Man Can Do."
Where T. Buckley goes next is as yet unknown, but his determination to push into new creative realms means he is an artist only at the beginning of a long career.
Ryland Moranz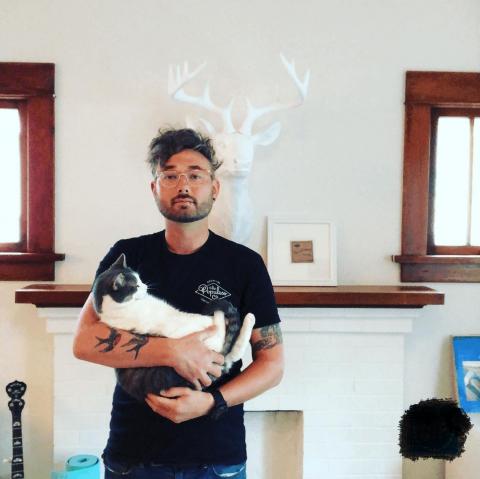 Ryland Moranz was born a singer-songwriter.
Originally hailing from Fort Macleod, Alberta, Ryland currently resides within the quaint musical community and picturesque surroundings of Lethbridge. His concise and lyrically driven songwriting is deep beyond his years with an emphasis on storytelling and an increasing awareness that life is always bigger than you think it is. Sometimes politically satirical and often offset with fun loving humour, Ryland's wit and social conscience shine through in the well crafted vernacular of a songwriter that has found what they believe in. Accompanying himself with acoustic guitar, tenor guitar, Harmonica, and banjo, his multi instrumental approach provides the perfect foil to the words he puts to paper.
A warm and engaging performer, Ryland has shared bills with great acts like Whitehorse, Pokey Lafarge, John Wort Hannam, C.R. Avery, Corb Lund, and Soda Pony as well as playing as a member of Leeroy Stagger and the Rebeltone Sound.
Some of Ryland's performance highlights include Calgary Folk Fest, Canmore Folk Fest, Americana Fest UK (London, EN), Celtic Connections Festival (Glasgow, Scotland), Rifflandia (Victoria BC) and Folk Alliance International (Kansas City, MO).
Although music has always been the medium, what really runs through Ryland's blood is words. Crafting in the spirit of great departed songsmiths like Blaze Foley and Willie P. Bennett, Ryland has developed his particular style of performance and delivery around the chosen message. An avid and self proclaimed history nerd, he draws stories from historic example and contemporary experience blending the common truths that bind it all together. The result is an honest and empathetic look at the world through a lens of a would-be true believer in search of answers. An introspective illusionist. A dreaming explorer. A believer in the knowledge that the words you speak should always mean something. 
Miesha & the Spanks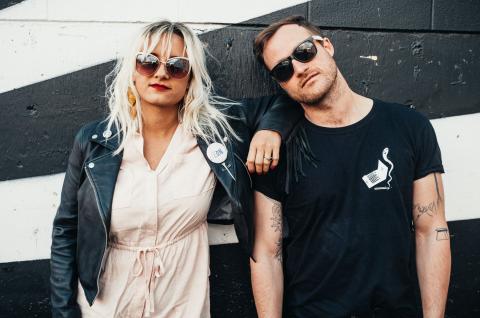 Miesha & The Spanks are a high octane garage rock duo from Calgary AB, made up of rock n roll matriarch Miesha Louie and her partner in crime, the hardest hitting Sean Hamilton on drums. Together they draw inspiration from classics like The Runaways, L7, and The Buzzcocks to create some modern noise that's catchy enough to raise a fist and sing along.
Noise Journal describes them as "a filthy rocket of pure jet-fuel up the nostril, with surf rock sensibilities, a grunge groove and hair metal swagger," while Canadian Beats called their last album "reminiscent of Queens of the Stone Age meets The Animals – a certain coolness about it, making it impossible to forget."
Their 2018 release Girls Girls Girls was produced by Danny Farrant of UK Punk Legends The Buzzcocks. The album reached #1 on Earshot!'s National Loud charts, and had singles hit #7 on CBC 3's R3-30, and #1 on the Indigenous Music Countdown. It was even given attention from Rodney Bingenheimer's Sirius XM show Rodney On The Rock.
Girls Girls Girls saw Miesha & The Spanks on the cover of Beatroute Magazine, accompanied by 30 dates across Canada, and festival appearances at Blizzard Music Fest (Rossland BC), Canadian Music Week (Toronto), Sled Island (Calgary), Rifflandia (Victoria BC), Halifax Pop Explosion (Halifax), Big Winter Classic (Calgary), The Great Escape (Brighton UK), FOCUS Wales (Wrexham UK), and Breakout West (Whitehorse YK).
At the YYC Music Awards 2019, Girls Girls Girls brought home Rock Recording Of The Year and Single Of The Year (Summer Love), as well as securing Miesha as Female Artist Of The Year.
Megan Dawson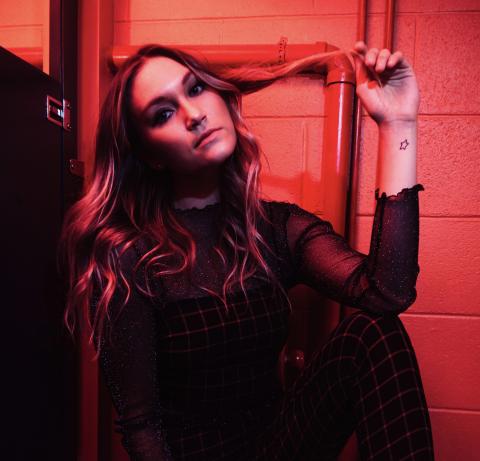 Megan Dawson is a singer/songwriter from Calgary, AB. Getting her start playing country music within Alberta, Dawson has been actively playing numerous stages as well as having multiple radio appearances since 2016. At the 2018 Alberta Country Music Awards (ACMA), she was nominated for the Fan's Choice Award, as well as performing at the 2018 ACMA Fan Festival.
Progressing forward with her music, Megan continues to bring pop/rock elements into her music and song writing. In November 2019, she was selected to take part in Canada's Music Incubator: Artist Entrepreneur West program at the National Music Centre. As well as opening for, Andrew Allen on his "All Hearts Come Home" tour stop in Calgary at the King Eddy YYC (2019). Dawson's newest single, "Double Take" is now available on all music platforms.
Cristian De La Luna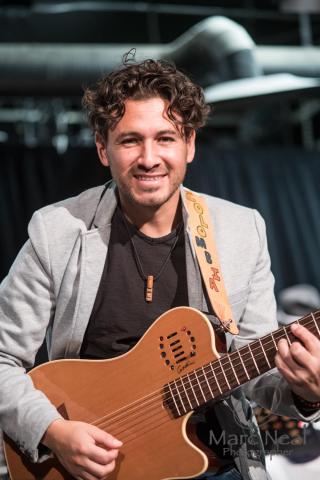 Cristian was born in Colombia. He grew up in the noisy bustle of "Cumbia", "Porro" and "San Juanero". He played in a traditional Colombian music ensemble: a "Papayera",  where he lighted upon the unalterable passion of his life: the music.
When he landed in Canada, he started to write songs inspired sometimes by the nostalgia of the troublesome story of his exile from Colombia and sometimes by the excitement of his new life in the adoption country and becoming a "new wave" Canadian.  As a culturally diverse polyglot and human rights activist, Cristian seeks with his music, promoting the unification of races and religions, crushing divisions, and dismantling the chronic neglect of those who stop dreaming. 
Cristian received a nomination to the Western Canadian Music Awards in 2013 for his album, "Puede ser" propelling him and his former band "La luna de Santiago" to various music festivals around the country. He was also recognized  in the province's most important Francophone song writing and performing contest: Polyfonik24 where he was honoured to represent Alberta at the prestigious Western Canadian competition "Chant'Ouest" in Victoria, British Columbia. In 2017, he's awarded the prix RGE-RADARTS  and selected to do an Eastern Canada tour. 
Cristian has showcased at the Alberta Showcase, Contact Ontario, Breakout West, Contact Ouest, among national Showcases and festivals like the Surrey Fusion festival, Calgary Mexifest, St Jean Baptiste Festival (Ottawa) Coup de coeur Francophone (Montreal).
Cristian's new album "Sabes"  released late 2018, was awarded Latin Recording of the year at the Edmonton Music Awards 2018 (EMA) and was nominated for the Canadian Folk Music Awards 2020 (CFMA) among other local mominations. He has been nominated as the Emerging Artist at the St Albert's Mayor Celebration of the arts 2018-2019. 
The concert is streamed on September 3, but videos from all performances are available to view on CKUA's website. 
Stream on CKUA