Alberta Spotlight: June 25 Concert
Alberta Music, the National Music Centre, CKUA and Stagehand are partnering with support from the Government of Alberta to deliver Alberta Spotlight, a weekly online concert series featuring Alberta musicians. The funding will go directly to Alberta artists who will be performing.
Concerts will be streamed every week on Thursday at 4:30 p.m. on the CKUA radio network.
Artists performing on June 25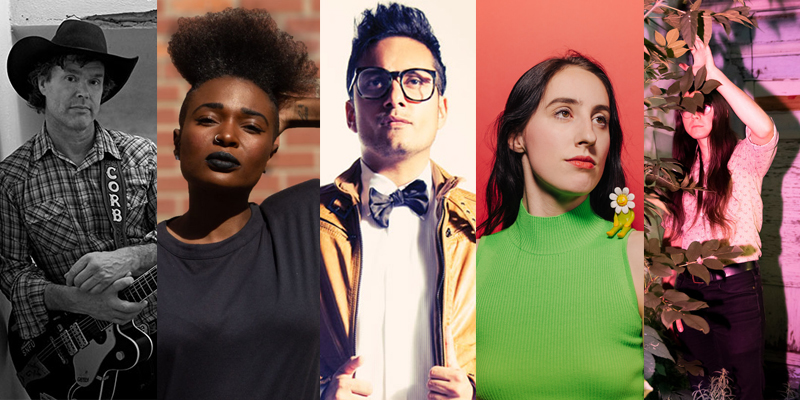 Corb Lund
Corb Lund is an alt-country singer-songwriter from Alberta, Canada. He grew up in a ranching and rodeo family in the foothills of Southern Alberta, then spent the early years of his career writing songs and playing bass for the indie rock band "the smalls." 
Lund's music reflects his Western heritage and rock and roll roots. His distinct blend of Americana-meets-roots-meets-alt-country has attracted accolades from critics in Canada and the U.S., who have called him "one of the best contemporary country songwriters" (Popmatters) and one of the "10 New Country Artists You Need to Know" (Rolling Stone Country). 
Marlaena Moore
Marlaena Moore is an enigmatic performer with an incredible presence and soaring voice. Her songs cross personal bedroom confessionals with grunge influenced guitar tones in a tight pop-song package.
Matthew Cardinal (of nêhiyawak)
Matthew Cardinal might be known to you as a member of nêhiyawak, but that will do little to prepare you for the avant-garde improvisational work he does under his own name. This is meditative music caught on the interplay of freeform guitar and synth.
RAGHAV
RAGHAV is a Canadian singer-songwriter. He has released three studio albums, including his debut album, Storyteller, which sold over 1.4 million copies and led to a MOBO Award, two UK Asian Music Awards, one Urban Music Award and four UK national top 10 singles.
The album changed the landscape for artists of South Asian origin worldwide. It was a fresh sound of Bollywood, R&B and Reggae that produced some of the biggest hits worldwide.
Sargeant & Comrade
Sargeant & Comrade are R&B and soul singer Yolanda Sargeant and rapper-producer Evgeniy Bykovets. Sargeant's rich, smoky vocals – playful or melancholy, joyful or pensive – come in over top of a fresh and unexpected mixture of elements in each song. Sometimes it's '40s swing piano riffs tinkling over a languid hip hop beat. Sometimes it's haunting flamenco guitar mixed with reggae styles blended with soulful trip hop. Always, it's distinctive and fascinating. Always, you can bet on it to draw you in.
The concert streamed on June 25, but videos from all performances are available to view on CKUA's website. 
Stream on CKUA