Alberta Spotlight: July 9 Concert
Alberta Music, the National Music Centre, CKUA and Stagehand are partnering with support from the Government of Alberta to deliver Alberta Spotlight, a weekly online concert series featuring Alberta musicians. The funding will go directly to Alberta artists who will be performing.
Concerts will be streamed every week on Thursday at 4:30 p.m. on the CKUA radio network.
Artists performing on July 9
Altameda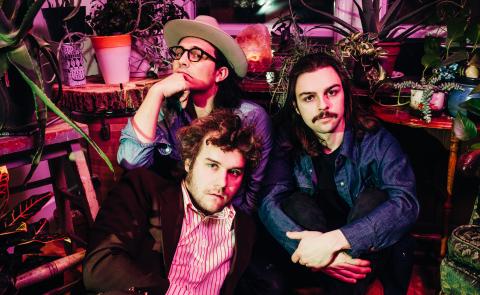 Respect for tradition with the sophistication to shake it off. Deadpan expression of a staunchly honest vision. Edmonton based Altameda (æl-tah-MEE-da) have evolved into a band with a bold, and unrelenting sound. It's the culmination of experience, both musical and rawly human, that makes Altameda the band they are. Hitting festival circuits and stages across Canada and the UK, they've toured extensively since releasing their much-celebrated debut album, Dirty Rain.
Band members are: 
Troy Snaterse
Todd Andrews
Matt Kraus
Erik Grice
Celeigh Cardinal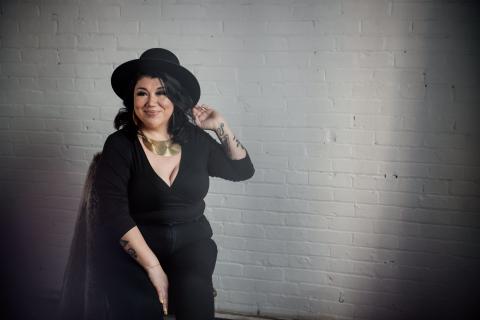 Celeigh Cardinal is a Métis singer-songwriter from the Peace Country of northern Alberta. She is currently based in Edmonton
Discovery is the beauty of music. It reveals itself in layers. Such is the evolution of Celeigh Cardinal.  Following a time-tested path from singing in church to performing in cover bands to writing original material, Cardinal has reinvented herself with each new chapter in her career.  Assimilating influences Fiona Apple, The Band, and Eva Cassidy, her songs are authentic and heartfelt and connect us to the healing power in music. With two full-length albums completed, and a future release in the planning stages, Cardinal is poised to expand her profile which already includes awards from the Western Canadian Music Awards, the Edmonton Music Award, the 2020 Juno in the Indigenous Artist or Group of the Year category, and two nominations for the 2020 Western Canadian Music Awards for Indigenous Artist of the Year and Songwriter of the Year. 
As well as her flourishing musical career, Celeigh Cardinal is the first Indigenous radio personality on Alberta's own CKUA Radio Network, and she's the first Indigenous member of CBC Edmonton's Radio Arts Column, the In Crowd. Creating more opportunities for Indigenous representation in Media and Music is not only essential to Cardinal, it is her inspiration. She strives to use the space she takes to lift up other Indigenous artists and be/have the representation she desired as a young girl, and the representation she desires for all Indigenous peoples.  
Matt Blais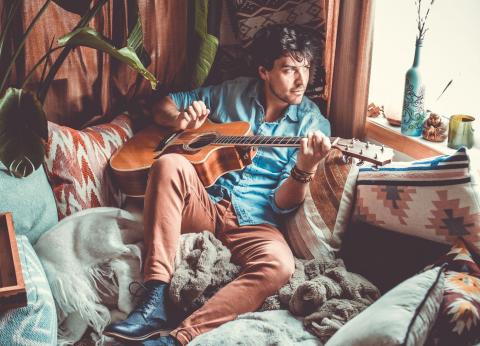 Roots-rock troubadour Matt Blais makes his message clear on his new full-length album In Shadow and Light: We need to reconnect. Amidst a whirl of toe-tapping harmonica riffs and belting vocals, Blais goes searching for authenticity in an increasingly deceptive world. On In Shadow and Light, the born and raised Calgarian reveals his chops as a chameleonic songwriter, weaving blues influences, rock 'n' pop hooks, slithering atmospherics, and twangy flourishes. Indeed, Blais is an artist that fits as comfortably alongside the best of his roots-rock contemporaries as he does the revolutionaries of Canrock.
In the six years Blais spent between albums, he's collaborated with Sam Roberts, played nearly a thousand shows, including opening slots for Monster Truck, The Strumbellas, The Trews, and Blue Rodeo, trod some of Alberta's biggest festival stages—Calgary Stampede's Coca-Cola Stage, Big Valley Jamboree, and more. With awards such as Male Artist of the Year at the YYC Music Awards (2018) and Best Rock Song at the "The Great American Song Contest" (2016), he has solidified his reputation as a force on and off the stage.
Nice Horse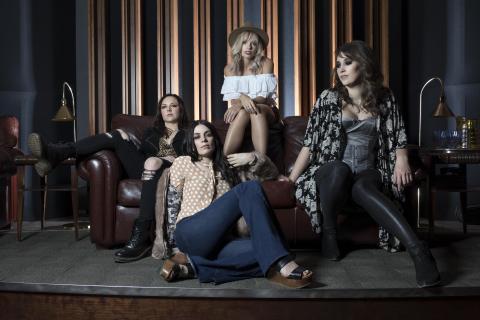 Nice?
Yes, they are that, but perhaps a better word is fierce.
The four ladies who make up award-winning Alberta country quartet Nice Horse are wild, wildly talented, wildly entertaining, fun, fresh, feisty and, yes, fierce, and they've already established themselves as one of the most buzzed-about and fast-rising acts in the Canadian music industry.
Formed almost five years ago by four close friends — friends from very diverse musical pedigrees — during one unforgettable girls' trip to Hawaii, what began as a part-time lark has now become their full-time focus.
A live act to be reckoned with, Nice Horse have already shared the stage with such acts as Tom Cochrane, High Valley, Washboard Union, the Nitty Gritty Dirt Band and Paul Brandt. They've performed at such big-time country music festivals as Boots and Hearts, Big Valley Jamboree and Dauphin's CountryFest, as well as showcasing during other high-profile events such as Roger's Hometown Hockey, Nashville's AmericanaFest, JUNOFest, and during the Canadian Country Music Association's Country Music Week. 
Not surprisingly, the awards and accolades have followed, including a pair of CCMA nominations, two 2019 Alberta Country Music Awards including Group of the Year, and a win for Country Recording of the Year at the 2018 YYC Music Awards.
Nice Horse is:
Tara McLeod (electric guitar)
Brandi Sidoryk (vocals, bass)
Katie Rox (vocals, banjo, acoustic guitar)
Krista Wodelet (vocals, drums)
Sinzere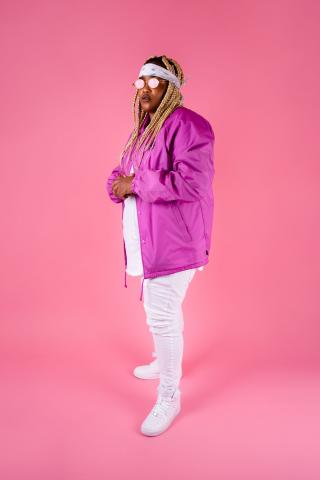 Sinzere is a rap/hip-hop artist from Calgary. For her, music serves as a vessel she uses to inspire people through her cutting-edge lyrics, and deep cinematic sound.
Sinzere is inspired by many different styles of music, everything from Queen Latifah, Notorious BIG and Jay-Z, to James Brown, and Canadian rap royalty, Drake. With an immense appreciation and diverse ear for music, Sinzere is intent on building something that is completely her own, yet also pays homage to the golden age of Hip Hop.
Sinzere is transparent with her listeners - her music is raw, gritty and created with the intent to inspire her fans. Her lyrics are witty and go against the grain, she stays true to the idea that storytelling comes from the heart.
The concert streamed on July 9, but videos from all performances are available to view on CKUA's website. 
Stream on CKUA