Alberta Spotlight: July 2 Concert
Alberta Music, the National Music Centre, CKUA and Stagehand are partnering with support from the Government of Alberta to deliver Alberta Spotlight, a weekly online concert series featuring Alberta musicians. The funding will go directly to Alberta artists who will be performing.
Concerts will be streamed every week on Thursday at 4:30 p.m. on the CKUA radio network.
Artists performing on July 2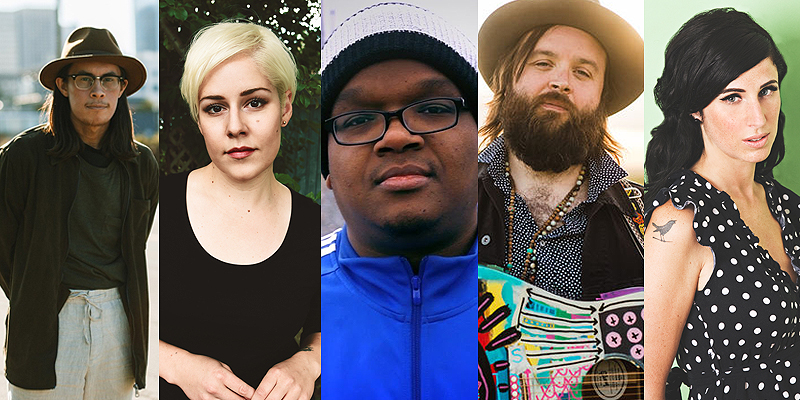 Wyatt C. Louis
Wyatt C. Louis is a Cree-Métis folk singer-songwriter, based in Moh'kinstsís (Calgary). He has made an impact on the eclectic city with songs built from soaring melodies, railroad-like finger picking and quiet, haunting vocals and lyrical phrasing. Dark, rustic tales meld folk and soulful blues to tell tales of love, loss and the journey home. They're beautiful, subtle creations that juxtapose emotions, striking imagery and experiences that charm and envelop listeners. The sweet and intimate EP 'On a Journey for the Long Run' (2017), had earned him airplay on CBC, CKUA and campus radio across Canada.
VISSIA
Edmonton artist VISSIA creates alt-pop music that plunges and hooks to catch and release. Whether breaking on the sand or splashing in the mud, this self-proclaimed earthy body of water writes songs as a way to observe, record and interpret her own internal paradoxes. Drawing on dance, R&B, rock and soul, VISSIA's intuitive creative choices as a singer, songwriter and multi-instrumentalist explore our emotional heart-spaces with unquenchable curiosity and playful awareness.
Dragon Fli Empire
It was a song in 2002 about a bus route that brought Calgary hip hop duo Dragon Fli Empire out of the basement and into the limelight. Now, almost two decades post-"Mount Pleasant", they have become a leading force in the city's hip hop scene, from opening for names like De La Soul, The Roots, Public Enemy and Mos Def to performing at festivals like the Calgary Folk Fest, Sled Island, Warped Tour, Shambhala and Rock the Bells. They were nominated for Best Hip Hop Album at the 2009 Western Canadian Music Awards and have toured through Canada, the United States, Belgium, Denmark, France, Germany, Norway and Switzerland. The DFE have released music independently as well as through labels in Canada, Japan, France and Finland.
Leeroy Stagger
It's said the cells in your body replace themselves every decade or so. After 11 albums, two EPs and 17 years as a singer-songwriter, Leeroy Stagger has been wondering if maybe the soul works the same way. Ten years sober, with two kids, a home in Lethbridge and a world-class recording studio to go with it, he's far removed from the hard-living twenty-something who started on this musical path. As far as Stagger can see, they aren't even the same person.
Strange Path is the name of Stagger's newest album and book, a name that applies as much to his unexpected route from the BC punk scene to southern-Alberta singer-songwriter as it does to the album's own evolution.  Bristling with love, grit, and confidence, they show the singer, songwriter, producer and performer at his best. He's stared down his past, retraced his steps, reflected on the beauty and pain of a life that's had more than its share of both. Maybe he's not the same person he was 10 years ago, but if anything, Leeroy Stagger is more himself than ever.
AV (Ann Vriend) 
AV (Ann Vriend) is known most for her virtuosic, soaringly powerful vocals, and not far behind that for her multi award-winning abilities as a songwriter -- and she ain't too bad at the piano, either. She has delivered her unique brand of old-school, inner-city soul to audiences around Europe, Australia, Asia, and North America throughout her under-the-radar but consistently award-winning, critically acclaimed career. In the past year AV's song "Hurt People Hurt People" climbed to the Top 100 Pop Charts in Germany— unheard of for an independent artist, let alone a Canadian one, and was invited to play 2 prestigious festivals in that country ("Lahnstein Blues Festival" and "Women of the World Festival"), in addition to 3 tours, one of which was opening for international UK R&B star Lisa Stansfield.
The concert streamed on July 2, but videos from all performances are available to view on CKUA's website. 
Stream on CKUA